Ms. Judy Inspires Others with Her Story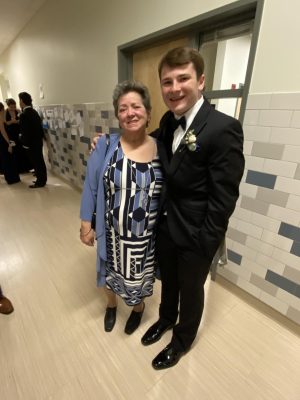 Ms. Judy–you may see her walking the halls, candy in hand, and a smile on her face. But, there are many layers to Ms. Judy other than handfuls of candy and stories for everything.
Judy Leahy spent her childhood in Weymouth, MA. She was the youngest of six, with four older sisters and one older brother. She attended Weymouth Public Schools, graduating from Weymouth South High School in 1978. Commenting that she didn't have to work while she was in high school, Leahy said she was "able to just be a kid and have fun!"
Following high school graduation, Leahy decided to pursue a career in the U.S. military. She attended basic training in Fort McClellan, Alabama, in an intense 12-week program. Serving in the Army for exactly two years, nine months, and 24 days, Leahy was discharged in 1981, prior to the "Don't Ask Don't Tell" policy, which was established in 1993 under the Clinton Administration. At the age of 20, she was forced to pack her things and leave the military because she was gay. Her unexpected discharge left Leahy floundering, not knowing what was in her future. Subsequently, she held a variety of jobs that ranged from working in a foundry to being a clown for special occasions.
In 1989, at the age of 29, Leahy met her "lovely" wife Sonya Kamdar through mutual friends. They have been happily together for 33 years: Although they were "married" in Maine in 1994, in 2013, they were legally married after same-sex marriage was allowed.
Also in 1989, Leahy moved to Bar Harbor, Maine, where she worked at Acadia National Park doing maintenance on the buildings. Her favorite experience during this time was "watching the sunrise over the ocean as the wildlife ran through the empty park with no visitors." In Maine, Leahy also attended the University of Maine at Augusta to earn her bachelor of science degree in behavioral sciences. While pursuing her studies, she began working in schools, assisting children with learning disabilities and students who were on the autism spectrum. She also learned how to read Braille and use a Brailler machine, as she worked with her first blind student.
In 2014, Leahy made her way back to Massachusetts and was soon hired by Scituate Public Schools. For eight years, she worked as a Braille specialist for a former SPS student, Sam Borek, who was visually impaired. Leahy thought her time with Sam was "fun and challenging." Putting classes like algebra and Spanish into Braille was especially difficult, but Leahy said her "love of math made it easier." Borek played a huge role in Leahy's life, as they moved from the old Gates building to SHS together. At the time, it was uncommon for an educator to move with a particular student. Leahy said Borek taught her an important lesson: "Never underestimate anyone's ability regardless of their challenges." Sam Borek graduated from SHS in 2019.
Besides talking to students at school, Leahy loves playing golf. She also enjoys spending time in the kitchen with her wife and sister Irene. When she's solo in the kitchen, Leahy's signature desserts include Toll House pie and key lime pie. Leahy's favorite beverage is COFFEE–every day on her way to work, she stops at Dunkin Donuts to fill up her half-gallon container of iced coffee.
Leahy loves to watch sports and attends many SHS sports games—her favorite being the girls' hockey team. Senior captain Hayley McCarthy said, "It was nice to see someone from the high school who supported the girls' teams, no matter how far away the games were." On occasion, Leahy would join the team in the locker room to give them a "pep talk" before their games, and everyone appreciated her support and enthusiasm.
The next time you see Ms. Judy traveling through the halls during H-Block, be sure to stop, say hello, and ask about her myriad life experiences. She loves talking about them! If you want a piece of candy from her, however, do not forget to say "please!"