Senior Sleigh Ride Spotlights Sophie Derr
Sophie Derr brings musical talent to the Senior Sleigh Ride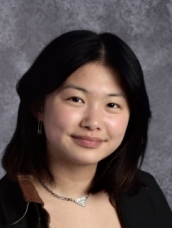 SHS senior Sophie Derr aspires to make her high school classmates feel welcome, included, and loved. She hopes her legacy at SHS is simply to be remembered as someone who truly cares about others. Her contribution to the Anti-Racism Club and GSA is a testament to her kind and thoughtful personality.
Among her many accomplishments, Sophie is a member of the National Honor Society and the National Spanish Society. She is very dedicated to her academics; however, Honors Symphonic Band is her favorite class: "It offers me a chance to have a break from the stress of schoolwork," she said. With the distinction of being a section leader, Sophie has been playing the flute since she was in elementary school. Commenting that she "feels very comfortable" with her bandmates and the community they have formed, Sophie has made a strong contribution to the high school music program.
During Sophie's junior year, she gave a presentation to AP Language and Composition classes about her experience growing up in a predominantly white town as an adopted Asian-American. Sharing her story with several classes, Sophie informed students, teachers, and district administrators about the microaggressions she has faced and how this has affected the person she is today. Sophie commented that her favorite teacher at SHS was her junior English teacher because she "put in effort to have a relationship with her students." 
Although Sophie is a highly accomplished student, she does have one regret about her time at SHS: Not being more involved in clubs when she was younger. Subsequently, her advice to members of the freshman class is clear: "Try to be as involved as you possibly can."
When asked who she would like to invite to join her on the Senior Sleigh Ride, Sophie said she would bring one of her best friends, SHS senior Maryn Bissell.