Euphoric Xtreme Gives Back to Community During Pandemic
Lydon and Woodgate use their business skills to raise money for local food pantries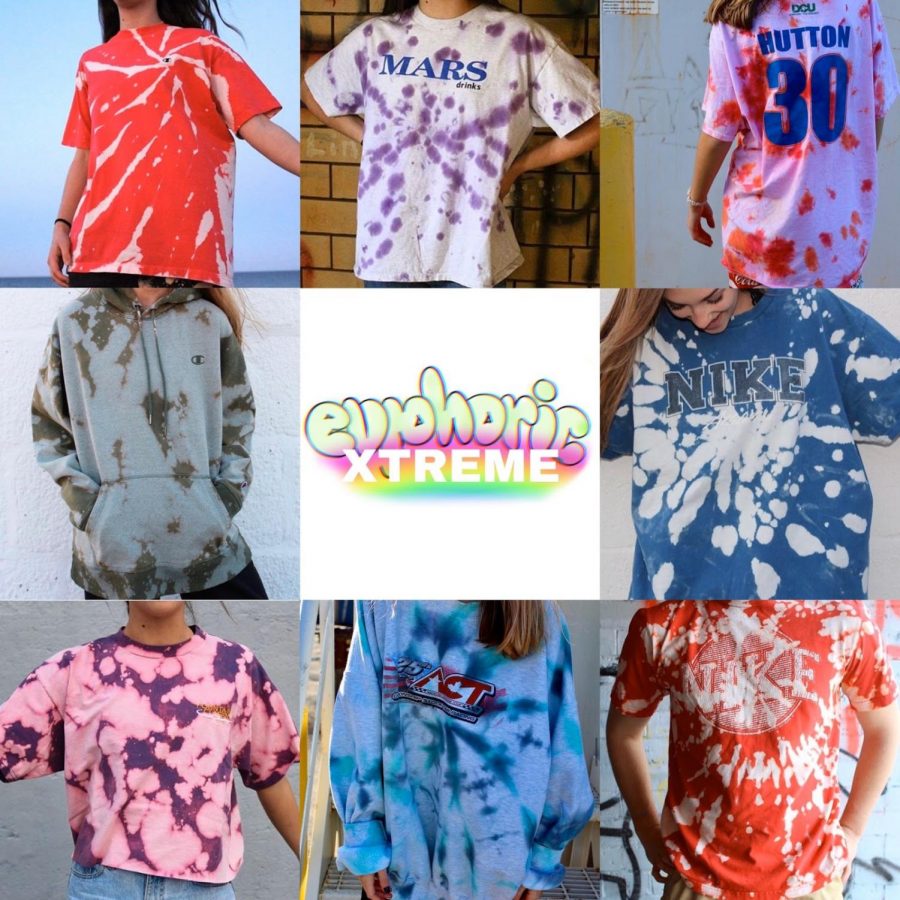 In this crazy world we are living in right now, just a few places are still open: grocery stores, convenience stores, gas stations–to name a few. Luckily enough, on that list, we can also add Euphoric Xtreme, the local sustainable clothing business run by Scituate's very own, SHS senior Paige Lydon and her Cohasset friend and co-owner Lydia Woodgate, a graduating senior from Notre Dame Academy. 
Nearly everyone I know owns at least one item from Euphoric Xtreme. Known for their unique thrifted items, their bleached clothing is a fan favorite. Despite the global pandemic, Lydon and Woodgate have managed to maintain their business, and in an effort to keep people smiling, they have taken even bigger steps to help the greater community during this crisis. 
Currently, the biggest issue Lydon and Woodgate's business is facing is the closure of local thrift shops. Lydon explained, "Our whole brand is built around the concept of thrifting and upcycling clothes." Nevertheless, they have faced this challenge head-on. Lydon and Woodgate have been extremely adaptable to this situation and used inventory they acquired before the pandemic. They also thought it would be amazing if customers donated clothing. Fortunately, enough people donated clothing for them to have enough for a recent drop–something nearly all locals look forward to. In fact, they were able to give back to the Euphoric community by offering a giveaway as a fun way to celebrate and thank their customers for 1,000 followers! 
Lydon emphasized how grateful she was to be able to stay in business. She said, "If our customers were willing to be so generous to help us, as a business, stay running, it was only right for us to do the same and help others in our community." Lydon and Woodgate decided to donate to the Cohasset and Scituate Food Pantries because many families are in desperate need of support during this pandemic. According to Lydon, local food pantries are temporarily relying solely on monetary donations to limit exposure to COVID-19. With the help of their customers, Euphoric Xtreme was able to donate $170 to the Scituate and Cohasset Food Pantries. Not only did Euphoric Xtreme give young people something to look forward to–as their customers were excited about new clothing drops–but they also helped families in the community. As soon as they can collect enough inventory to do another drop, Lydon and Woodgate hope to help other organizations as well.
And if that's not enough to get excited about, the team has been working with a few other small businesses with sustainable brands around the South Shore that they hope to collaborate with once they can do so safely. On top of that, the team is hoping to plan a Euphoric popup shop at some point. They are hopeful this can happen, which, as Lydon says "would be a great way to get the Euphoric community together!"
Through this currently difficult and trying time for our community and nation, Euphoric Xtreme has been a bright, positive light in our lives. They have brought us together and kept us excited, while also giving back to the greater community. Thank you, Euphoric Xtreme! I am sure I can speak for all of your customers–we are so grateful for your business and so excited to see what the future holds!