New Striped Bass License Plate Will be Available in MA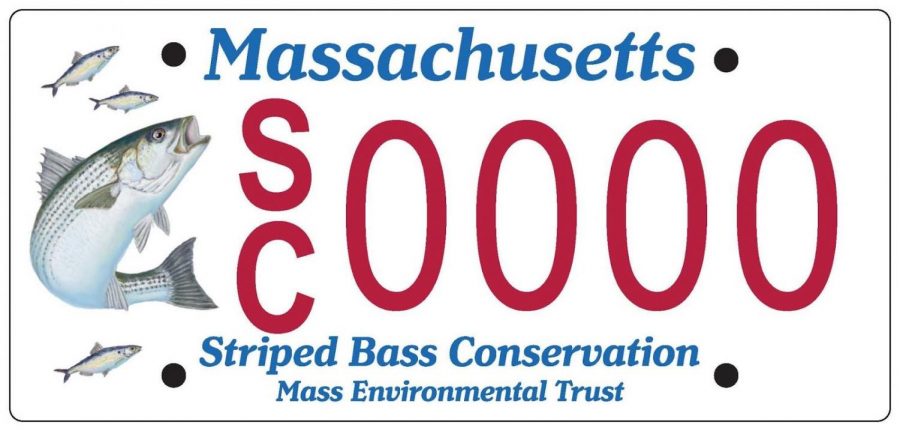 For decades, Massachusetts drivers have been able to show their support for a charitable cause by purchasing a vanity plate for their car. In contrast to the plain white standard-issue plates that make up the vast majority of license plates in the Commonwealth, vanity plates are colorful with beautiful imagery representing charities from the local sports teams to environmental conservation efforts. 
Baystate drivers will soon be able to help support a new effort in the Striped Bass Conservation. Last spring, the Baker-Polito administration unveiled the new plates featuring a design from a local artist depicting a striped bass and its primary food source, the Atlantic herring. With help from advertising from local fishing shows such as NBC Sports "On The Water Angling Adventures," the plate quickly reached the 750 pre-orders necessary to begin production this past December. 
Since stripers are one of the most sought after fish in New England waters, they have been largely overfished, causing them to join numerous other species like the cod and the right whale on the Massachusetts endangered list. Despite this, efforts of the Environmental Trust to protect these species have allowed the resurgence of fish and wildlife long thought to be doomed for extinction. Now the Environmental Trust has turned its focus to preserving a new fish: the striped bass.  
The Striped Bass Conservation Plate will join four other Environmental Trust options such as the Right Whale, Freshwater, and the Atlantic White Shark Conservation Plates. However, plates will not be available to the entire public until a reasonable amount has been produced, which is expected to be during the fall of 2020. 
The cost will be approximately $40 every two years, money which will be donated to the Striped Bass Conservation on top of normal registration fees for the Commonwealth of about $60, bringing the complete total to about $100 every two years. The $40 fee is tax-deductible as a charitable donation—a small price to pay for protecting one of the most beloved species in our waters and having a beautiful addition to your car while doing it.