SHS Alumna's Art Chosen by the College Board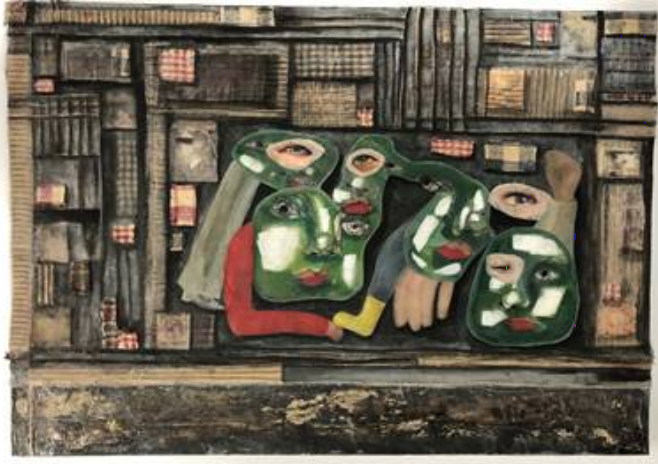 Every student who has taken an AP class is familiar with the College Board examples of past students' work. But have you ever wondered whose work that is? SHS 2019 graduate Halle Dowling has the prestigious recognition of being one of those students for AP Studio Art. 
Both Dowling and SHS art teacher Julie Hickey were informed of the news over the summer from a letter they received from the College Board. Of the 66,000 AP portfolios, Dowling's was one of the 36 chosen to represent exceptional work. 
The process by which the College Board chooses the artwork is through a series of teams looking at both the digital copy and the real physical copy of the portfolios. The teams are made up of trained AP scorers who are college professors and teachers. After viewing the 66,000 portfolios, the teams go back and select the 36 portfolios for the exhibit. Halle's work is recognized on the College Board Website as Sample #4. 
Hickey first met Dowling in her 9th-grade Intro to Art class. She first realized her talent "pretty much the first time she made something." According to Hickey, as soon as  Dowling was faced with an artistic task "she just got it." While Hickey does appreciate and respect each of her student's work, it´s not always that she genuinely likes the art they make. But when it comes to Dowling's art, she is a genuine fan. 
According to Hickey,  home–and the feelings associated with home–represented Dowling's focus for her AP Art Portfolio. In fact, a lot of her artwork is with mixed media–using materials from her home and childhood. She even got a job at JoAnn Fabrics to utilize their materials in her art. Dowling has begun to focus many of her artistic talents on stop motion animation, which she taught herself how to do.
 The artistic process is extensive for Dowling. Her specific piece, "Unfamiliar Faces," was a work in progress from about early October 2018 to March of 2019. She takes her time, adding and taking away pieces as she goes.
Dowling is currently attending Savannah College of Art and Design, where she is pursuing her passion.