New Instagram Account Reviews Water Fountains Around SHS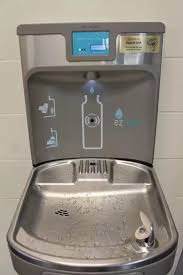 Ever since the old Gates was left to rot, the threat of lead poisoning via water fountains hasn't been a concern among Scituate students. But a new student-run Instagram account may revive the paranoia of warm water and electric shocks. The Instagram account titled @scituate_fountain_review started on October 16th, 2019, and is the top platform available for students to find the smoothest and highest pressured water fountains on the SHS campus. 
Three students, who asked to stay anonymous, were inspired by another account @yardfountains, located at United States Naval Academy in Annapolis, Maryland. 
"We think this is making students smile and laugh throughout the day," They said. Though they're new to the reviewing industry, the writers' first attempts have garnered a great response, racking up almost 150 followers in less than 10 days. Some students might say this social media account is the talk of the school.
The participating student writers agreed that the cafeteria fountain was the best "by far." Their reviews, which have personal rankings like "taste," '"texture," "temperature," "water pressure," and "lead poisoning," got an outstanding total number, 34/40, on the personal rankings. 
Meanwhile, the writers would love if some of the older water fountains were updated in the school–especially the fountain at the end of the math wing. Under their "lead poisoning" section, this fountain was marked "Probable," stating, "the water is too warm to enjoy, and I am probably poisoned." This fountain earned a disappointing 21/40. 
The three mystery writers claim not to have much prior knowledge of water fountains, but they are learning more as they continue writing reviews. Nevertheless, they are sure about one thing: when asked about the terms fountain vs bubbler, they said, "It's a water fountain. Bubbler is a slang term that we use to make reading the stats easier. Take it from the 'professionals.'" 
Follow @scituate_fountain_review on Instagram for updates about the water bubblers around SHS.