Class of 1966 Graduates Establish a Legacy of Giving Back
Bob and Jay Gilson donate thousands in scholarships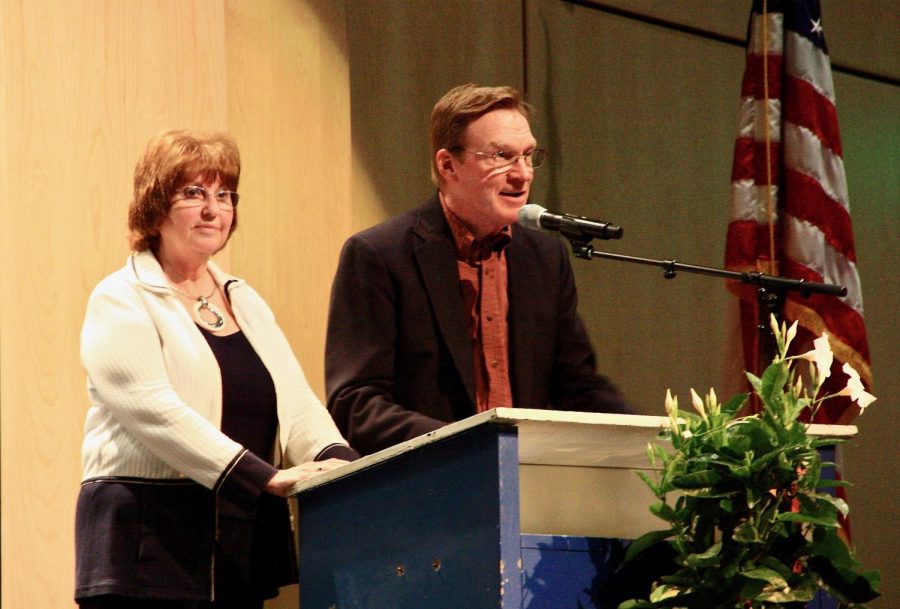 Pablo Picasso once said, "The meaning of life is to find your gift. The purpose of life is to give it away." Jay and Bob Gilson, graduates of Scituate High School's Class of 1966, have represented Picasso's wisdom well for the past several years, as they have personally donated thousands of dollars in scholarships to graduating SHS seniors. Currently residing in Oklahoma, the Gilsons never lost their ties to Scituate, as they continue to give back to their hometown high school.
Born and raised in Scituate, Jay (Stone) first met her future husband, Bob Gilson, in 5th grade when they were classmates at Central School (currently Central Park senior housing). Married for nearly 50 years, the couple began dating in 7th grade. Bob recounted, "Her mom would take us to movies that were playing downtown in the Harbor, and my mom would pick us up afterward."
When high school came around, music became an important part of both Jay and Bob's experience at SHS. Jay sang in the chorus and played the French horn. Remembering the music room as her  "home away from home," Jay said, "Bob could do his homework in the band room with all the noise. He had great concentration, still does." Bob added, "That was one of the great things about band then. It was a very social group."
In 1966, Bob graduated as the class valedictorian–with Jay not too far behind him: "I wasn't number two, but I was smart enough to marry number one," joked Jay. After high school, Jay went on to pursue a degree in US history at the University of Massachusetts, Amherst, while Bob studied Aeronautical Engineering at Purdue University in West Lafayette, Indiana.
Bob worked his way through college and ended up graduating a semester early. Jay took additional summer classes at Boston University, which also allowed her to graduate a semester early. The couple married in 1969, and Bob immediately started a job at McDonnell Douglas Astronautics Division in St. Louis, Missouri, where he helped create the first space station Skylab.  
While in St. Louis, Bob built the couple's home from the ground up. "If you can build a space station, you can build a house," said Jay. In 1974, when Bob's supervisor at McDonnell Douglas took a job in Oklahoma, Bob and Jay decided to move their life to Oklahoma City, as Bob dedicated his time to designing, modifying and doing fieldwork on offshore drilling rigs. Bob said this career shift was a "big change from spacecraft." He explained, "Everything had to be right, and you get one shot."  Knowing that Oklahoma was their new home, Bob built another home that the couple still lives in today. Every year, the couple also spends 16 weeks at their second home in Summit County, Colorado, where they enjoy skiing and being outdoors.
The Gilsons' travel schedule also includes yearly visits to Scituate. While in town, they enjoy seeing friends and reliving old times. "That's the nice thing about getting older–you get to reconnect with people you never thought you'd see again," said Jay.
During the fall of 2016, when the Gilsons returned to Scituate to attend their 50th high school reunion, they were given a tour of the high school from several members of the National Honor Society. Their interaction with these NHS students sparked an idea for giving back to SHS: The Gilsons decided to give each student on the tour a scholarship for college.  Bob explained, "We had been talking about doing this [giving scholarships] for a number of years, but sometimes life gets in the way."
Continuing their generosity, the Gilsons set up a formal scholarship in 2017. "We wanted serious-minded people who weren't just going for a party school," said Jay. This meant looking at intended areas of study, grades, and extracurriculars.  
According to the Gilsons, they originally planned to award two $5000 scholarships last year, but they ended up giving four scholarships after being unable to narrow it down. Jay explained, "We had 40+ to go through last year and 50+ applications this year." As a surprise this year, Bob and Jay also awarded $7,500 to the class valedictorian and $6,000 to the class salutatorian. Bob commented, "We didn't realize until this year that the school didn't award anything to the two top students, so we decided to fix that."  
This year's SHS Scholarship Night was held on May 29th in the Performing Arts Center, where Principal Wargo announced that over $150,000 was awarded to members of the Class of 2019. The Gilsons were there to personally deliver their scholarships for six students. Seniors Abby LaBreck (valedictorian) and Ashley Sommers (salutatorian) each received a special scholarship, while Thea Malerbi, David Sullivan, Emily Sommers, and Declan O'Neill were awarded the Bob & Jay Gilson Class of '66 Scholarships.
When asked to share their advice to graduating seniors, the Gilsons explained their path to a successful life:  Jay said, "Keep the options open. Don't slam doors on yourself." Bob added, "Opportunities will present themselves, and you should be prepared to take advantage of the ones that look good."