SPS Teachers Inspired by Summer Work
Woodford, Branca, and Poirier extend their teaching and learning beyond the classroom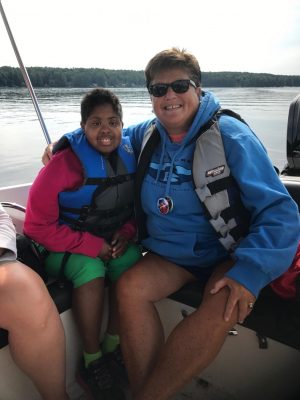 Hang on for a minute...we're trying to find some more stories you might like.
Scituate Public Schools teachers Kim Woodford, Heidi Branca, and Matt Poirier are currently wrapping up their school year; however, they are also looking forward to spending time with students outside the classroom, as they help them make the most out of their summer experience.
Packing up her suitcase, Gates Intermediate School eighth grade science teacher Kim Woodford is excited about embarking on her annual week-long volunteer position. For the past thirty years, Woodford has been involved with Camp Fatima, which is located on Lake Suncook in Gilmanton Iron Works, New Hampshire. Woodford is a volunteer during Exceptional Citizens' Week (EC Week), which is a week-long camp specifically designed for people who are intellectually or physically disabled. 200 to 300 people volunteer their time at the camp during EC Week, and Woodford said it is one of her favorite weeks of the summer.
Woodford said she first learned about the camp when she was in a youth group in high school. She was a counselor back in high school and college, as well as for the past seven years, but she also stayed involved with the camp during the years when she was unable to attend EC Week.  
According to Woodford, fundraisers for the camp are organized throughout the year, which enables the campers to attend free-of-charge. Events such as a comedy night and golf tournament raise around $25,000 each. Woodford said one of their newer fundraisers is a 5K road race, which raised $200,000 in two years.
EC Week is designed so every camper has a one-on-one counselor for the entire week. Campers have the opportunity to engage in a variety of activities, including woodworking, horseback riding, mock rifle shooting, boating, and swimming in the lake. Every year at camp there is a theme. This year's theme is "Once Upon a Time." Campers can be a part of a show each night, which is based on the theme, and Woodford says "they love it."
Woodford sees her week at camp as "an honor and a responsibility" to provide care for her camper. Woodford cherishes this week, where some of her and her best friends volunteer for an experience like no other.
Crossing into Hanover, Briggs Stable is where you will find special education teacher Heidi Branca. Branca is a GLC (Gates Learning Center) and iExcel teacher at Gates Intermediate School. She spends her summers working with horses and riders, dedicating four days a week (for five weeks) and every Saturday to riding. (Branca also works at Briggs Stable on Saturdays during the school year.)
Branca became involved in this job as a Massachusetts Licensed Riding Instructor, beginning at HandiKids in Bridgewater, in the early 2000s. In the summer of 2010, she started at Briggs Stable to help out a friend. Some of her responsibilities for the Therapeutic Riding lessons include organizing the Special Olympics Southeastern Equestrian Competition, recruiting volunteers, and taking care of the horses. She also organizes lessons for programs like the South Shore Collaborative for the summer.
Branca has been working at Briggs for eight summers, but she has been riding since she was a child and says she feels "very comfortable around horses." Branca said she considers Briggs Stable a second home and finds her job there "fulfilling and rewarding."
Spending his summers on the basketball courts, Gates Intermediate School social studies teacher Matt Poirier engages in basketball from every angle. Each summer, Poirier works five or six camps, equaling about 40 hours per week. His involvement in the sport has been unwavering since he was a small child. Working for the Scituate Recreation Department since age 18, Poirier feels basketball has kept him "somewhat sane." When asked how basketball has impacted his life, he commented that he didn't know where he'd be without the sport.
For the past 34 summers, Poirier has participated in camps and clinics. Poirier puts a lot of effort into coaching and expects the same effort from his players: "If I work hard every day, I can ask other people to do that." As a coach, Poirier said he has to "walk the walk."
In addition to coaching, Poirier lectures at basketball camps and clinics. Poirier said he tries to highlight "purposeful communication" and the need for speed in the game. Poirier describes lecturing as "talking about talking." This experience provides Poirier with a constant opportunity to learn. He said, "The second that I think I know something, I don't."