Thanksgiving: Top Rated Foods and Long Awaited Traditions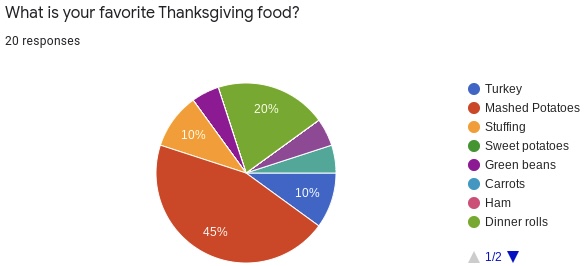 The holidays are a time for family and love, but everyone is excited for Thanksgiving for one reason: the food. The warm, savory turkey and the smell of Grandma's homemade apple pie easily make Thanksgiving one of the most delicious holidays. But which dish is number one on a teenager's list, and which foods do we steer clear of? From the main course to dessert, SHS students let us know. 
Students were asked to fill out a short survey sharing their Thanksgiving preferences and why they feel that way. Unexpectedly, the worst Thanksgiving food voted was stuffing. According to students, the "texture is weird" and it's "just wet bread." A close second is squash, rightfully so. Squash is "just not tasty," and you can't argue with that. Unfortunately, a small percentage of students still have to suffer the pain of eating all the foods on their Thanksgiving plate, no matter how repulsive. On a positive note, not one person wrote that carrots were their least favorite dish on the holiday, so it seems as though they should be the first choice for a source of vegetables. 
Coming in first place as the best dish served on Thanksgiving is none other than mashed potatoes. Of course, this should be no surprise as creamy mashed potatoes topped with melted butter and gravy would tantalize anyone's taste buds. Unfortunately, if you do not share an uncle with me, you will never be able to taste the greatest mashed potatoes in existence. But mashed potatoes are also "one of the few vegetarian items at Thanksgiving" and are "warm, delicious, soft, and can be eaten with gravy and rolls." Dinner rolls, of course, were the runner up. How can anyone say no to a bite of a soft and steamy bread ball? 
An overwhelming majority of students voted apple pie as their favorite Thanksgiving dessert. "It's a Thanksgiving classic that really only comes around now, so you have to seize the opportunity," says one student. Certainly, there is no way of denying the warm cinnamon and apple with ice cream on top–it's just too tempting. Obviously, pumpkin pie is a close competitor, but apple pie takes the lead this year as the number one dessert. Many students also mentioned that they were a fan of cake on this special holiday, which isn't conventional, but how could you blame them?
Even though the most exciting part about Thanksgiving is what's on the plate, the most special part is spending time with family. Each family is different, and that's why each family has different traditions and customs when celebrating the holiday. Some students describe their holiday as a relaxing day full of watching the Macy's Parade and football games. Others spend time in the kitchen making cranberry sauce or cinnamon rolls. Some even discuss politics with relatives until they can't anymore. On my Thanksgiving, my grandmother loves when all her grandchildren produce a play for her about the pilgrims or recite the Gettysburg Address. Whatever it is that you do on Thanksgiving, it's important to do it with your family.