"Trunk Parties" Provide a Healthy Way to Connect With Friends 
Trunk Parties: A safe way to socialize but not endorsed by Scituate police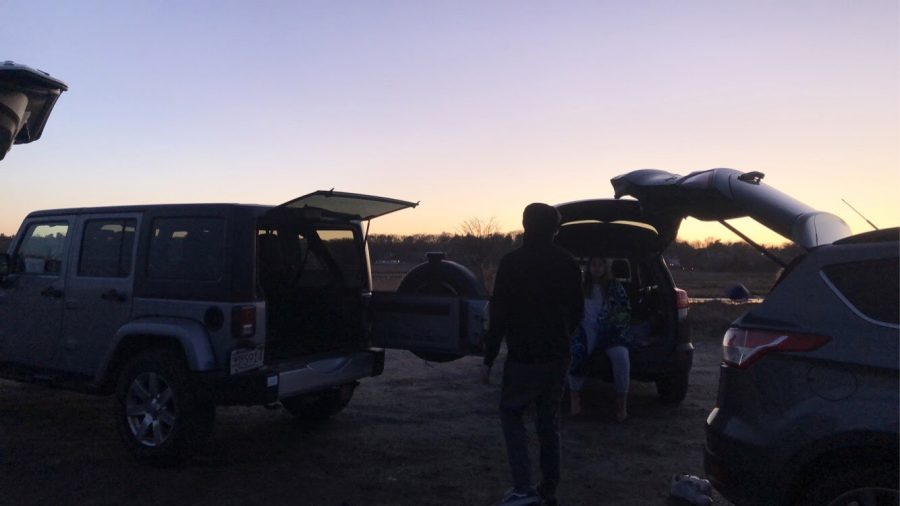 The inability for daily social contact for Scituate's teenagers has led to creative new ways of seeing groups of friends while complying with the government order to practice social distancing to curb the spread of COVID-19. To do so, groups of three to eight people park their cars in typically empty beach parking lots,  often bringing things like blankets, foods, and music while sitting in the trunks of cars or beds of trucks to talk with their best friends safely and healthily. 
The "trunk parties" have provided local teens with an important break from a stressful quarantine along with time to catch up with friends whom they have been largely isolated from for nearly a month. To current high school seniors, "trunk parties" have become particularly popular, as they are faced with the very real possibility that they will never go to school again with friends they've known since elementary school. 
However, "trunk parties" haven't been universally appreciated by town residents. With the increasing popularity of the social distancing social gatherings, opposition from town residents has only continued to grow, largely stemming from the fear that the get-togethers will still become a breeding ground for the spread of the virus in Scituate, while others have simply viewed "trunk parties" as an annoying nuisance. 
The Scituate Police Department has responded to numerous noise complaints stemming from the parties–as well as complaints that the numbers of people attending the gatherings are far too large. Although the town has not officially prohibited "trunk parties," those who have wished to partake in the gatherings in recent days have often found themselves being disbanded and told to "find another means" by the Scituate police. 
Even worse for local teens, with warmer weather approaching, it is widely believed that the Town of Scituate will close the local beaches and parking lots, which have become home to the quarantine gatherings. Town officials may have to take this step as a safety precaution to prevent the spread of COVID-19 and save as many lives as possible.
On the bright side, there are still many ways to maintain both social interaction and sanity until the awaited reopening of society. Because of the quarantine, teens have more time than ever for taking walks, exploring new hobbies, and participating in online discussions. Everyone can make the most out of a tough time while maintaining both health and safety. At the end of the day, what could be more important?