The 39 Steps Performed on March 6th and 7th in the PAC
Full Show Production Debut for Kyle Moon and Maggie Ayers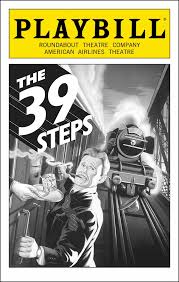 Francis Minich, Contributing Writer
March 6, 2020
A drama production that will be presented on March 6th and 7th in the PAC has been flying under the radar at SHS: The 39 Steps, directed by senior Kyle Moon, assistant directed by Lily Grazioso, and stage-managed by Maggie Ayers. With a cast of four people, The 39 Steps is not a conventional show,  and, aside from the faculty advisors, the entire production is being run by students.
Set in 1935, the show is a parody of the Alfred Hitchcock movie of the same name, including allusions and references to other Hitchcock movies like Strangers on a Train, Psycho, and North by Northwest. Senior Hayden Startzell plays the lead, Richard Hannay, a man pulled into an anti-Nazi scheme against his will. Startzell is also the only actor who plays only one character for the entirety of the show. Junior Anne Grace plays two different women and love interests of Hannay, and junior Emily Norton and I portray the rest of the cast—playing roughly ten characters each, with our roles referred to as Clown 1 and Clown 2.
Though the show may seem to have serious connotations, it frequently makes fun of itself and is not dramatic by any means.
The show process started at the end of October when auditions were held, and rehearsals have been going on twice a week since November. The show represents the first time Moon and Ayers have directed and managed a full show, and the unconventional choice has caused some challenges.
When Ayers joined the crew of the show, she wasn't totally sure what she was getting into: "It was a lot more than I realized," she admits. However, she rose to the challenge. She said, "It's been a lot to get comfortable within a relatively short amount of time, but all in all I've learned so much and I'm grateful for the opportunity!"
"All the characters that Frankie and Emily play have definitely been challenges both from the directing standpoint and the acting point of view," said Lily Grazioso who assistant directed the show alongside Moon. "All of their costumes have to be ready for them to change into as fast as possible between scenes. There's a specific scene where the two of them are changing into six different characters with as little as a half a second between lines, so they're literally transitioning right before the audience's eyes," she added.
As for me, this show has been a lesson in how to be flexible and think on the fly. With such a small cast, there's no one to cover for you if you don't know your lines or blocking. The fast-paced nature and vaudeville hilarity intertwine to create a show that barely lets the audience breathe yet can entertain both young and old. I'm so proud of everything our cast and crew have accomplished and can't wait to perform this strange and wonderful show this Friday and Saturday.
The 39 Steps will be performed at 7:00 p.m. on Friday, March 6th and Saturday, March 7th, in the Performing Arts Center. Admission is free.