Why Everyone should see Marriage Story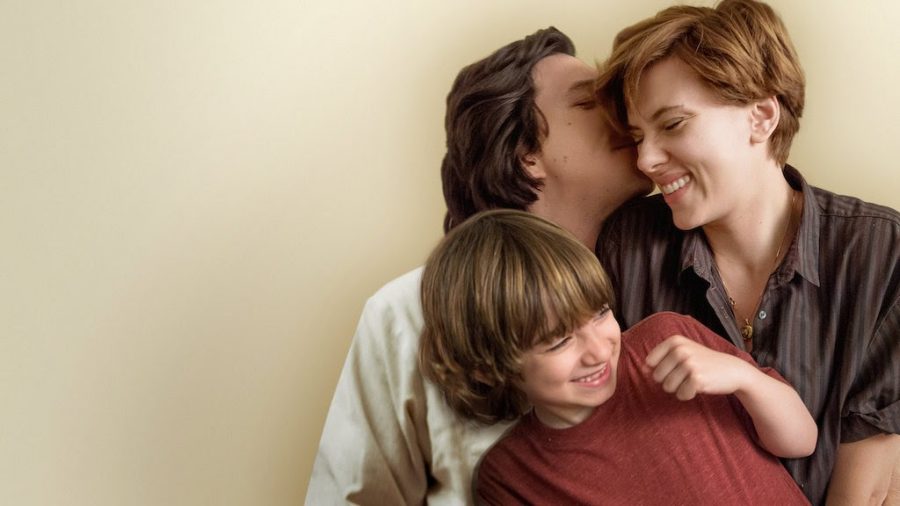 Marriage Story premiered on Netflix in early fall. It tells a notable perspective on marriage, following the ugly as opposed to the beautiful. The audience watches as lead characters Charlie and Nicole tear each other apart. 
The cast is small but made up of notable figures. Adam Drivers plays Charlie, a theatre director and husband of Nicole, played by Scarlett Johannson, who is a former actress at Charlie's theatre company. Laura Dern plays Nora, Nicole's divorce lawyer.
The genre is presented in twofold. There is obviously a horrible and dramatic reality: a couple's fading love and their journey in order to help their child have the best life he can. But Marriage Story is also a feel-good story. It is not an unfamiliar situation, and the pure rawness that every character, specifically Charlie and Nora, produce is fantastic. 
Driver and Johannson are both most famous for their similar enigmatic characters in Star Wars and The Avengers, respectively. But Marriage Story threw out any predisposition that only action stars can do action movies. 
Johannson's quiet desperation for Charlie to understand her is utterly heartbreaking, and when she is able to live a peaceful life in California, the audience becomes even more stuck: whose side should we root for?
Charlie's need for a successful career is not one that you can immediately disregard. But his lack of empathy drives the audience further and further from his side. 
Driver defined pure frustration and burnout through Charlie, who slowly grew to fit an antagonistic character into the climax. Though his intentions were never to hurt Nicole, his "closed-book" personality was the exact downfall of both characters. 
The visual aspect of this movie is another which proved its brilliance in subtlety. For instance, during the scene where Charlie is with his first divorce lawyer, Bert Spitz, played by Alan Alda, the filters have undertones of green, and Spitz's walls are wood and barren, besides a few boring framed photographs, bringing a feeling of hopelessness to the scene. 
When Charlie enters Nicole's new house for the first time, the first thing the audience notices is the juxtaposition of his own small two-bedroom to her Spanish villa inspired house. The filter is orange-toned, conveying her undisputable happiness since moving out. Though she knows that Charlie has his good intentions, their choice to split proved more healthiness than not. 
The authenticity of the ending scene proves that the movie's wrap up in not to take itself too seriously. The last shot spans over a minute and a half, and I adore the idea that it shows that the end of a movie isn't the end of these characters' lives. They will continue to keep living and have their own human issues, which shouldn't be minimized just because the overarching plot is over.