Stress Less Week Prepares Students for Midterm Exams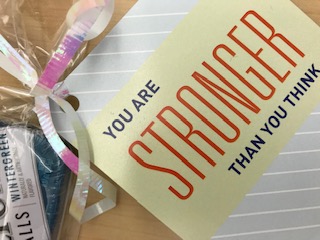 Ellen O'Donnell, Staff Writer
January 24, 2019
With the annual Stress Less Week gaining popularity at SHS, admit it–you were a little bit confused about what it was and why it was happening. (Stress Less Week was held from January 7th-11th at SHS.) You were probably thinking about midterms–the anxiety-provoking week when students study their absolute hardest in order to get the most desired grades in their classes. Undoubtedly one of the most stressful times at SHS, midterm week (January 22nd-25th) is when students are reduced to sweatpants, sleep deprivation, and zero motivation.  
This begs a question: Was Stress Less Week helpful for those who needed extra encouragement? After asking multiple students whether or not Stress Less Week helped guide them toward the grades they wanted, it is confirmed the week was timed perfectly, allowing stressed-out students to believe in themselves just in time for the busy week full of exams and projects.
Junior Patrick Greene had a lot to say about this topic. After claiming to be one of the biggest procrastinators, he said, "I think Stress Less Week really encouraged me to focus on finding time to study, yet not be stressed out by the amount of studying I have to do." Greene admits he gained valuable insights to help manage his stress: "Basically, one thing it really helped me with was time management and not creating my own stress." He added, "Maybe time management is the greatest skill to have while studying."
For many high school students, a constant battle rages in their heads: "Will I have time to do this?" or "Will I have time to study after practice?" It seems Stress Less Week may have prompted students to make time for themselves so they could actually study and learn the material without being rushed. Students were given strategies to help calm their minds and increase their ability to effectively focus. Students were encouraged to limit their screen time and relax in more meaningful ways: spending time with comfort dogs allowed students to feel more connected and happy. By reflecting on their lifestyle and study strategies, students learned they are completely capable of comprehending the necessary material for acing their exams.
During the midterm week, students are able to leave school once their exam period is over. At SHS, there are two exam periods each day, and all exams end by 11:40 a.m. Many students use their free time after the exams to nap, play video games, get food, or watch Netflix. Some people may argue that students create their own stress by using their free time to completely relax, but others could claim this time is being used to rejuvenate their mind, body, and soul. Students can let their brain rest from the constant stress of the week.
Junior Grace Ryan claims if she didn't have this relaxation period to go home after exams, she would have a difficult time getting through exam week. She expressed her distress at "the thought of administration even thinking about taking away the students' ability to leave after the exam period." Recent rumors about the SHS administration changing their policy and requiring students to stay at school after exams is causing concern among students.  
There is so much discussion about midterms and how it affects the lives of students, but truly what it comes down to is allowing high school students the time they need to rejuvenate and study the material in the way that benefits them best. Stress Less Week definitely benefited students in a way that will be undoubtedly be reflected through midterm scores.