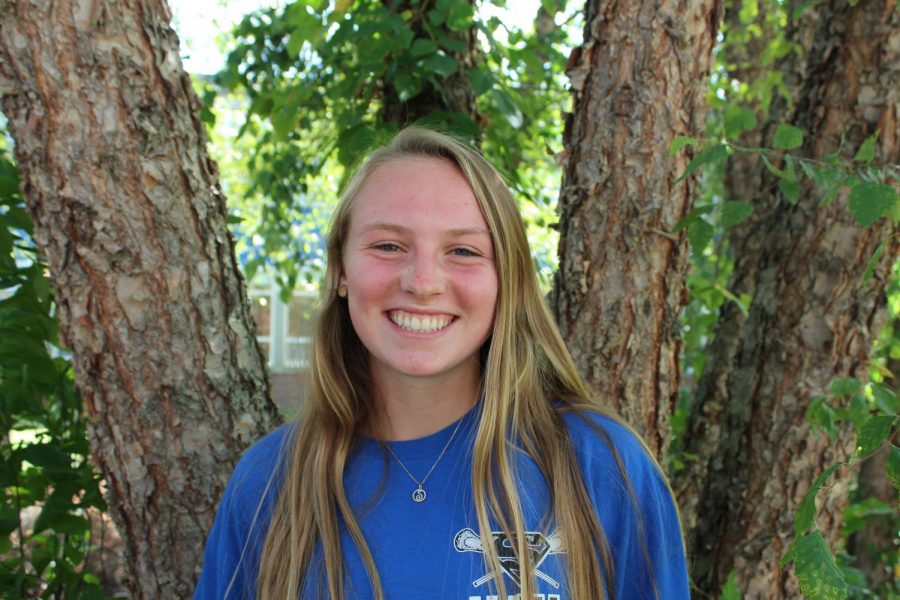 It can be tough being the youngest child in a large family, but 16-year-old Sarah Irish is stepping out from under the shadow of her three older siblings and approaching her junior year in full swing! With her free-spirited, outgoing personality, Sarah's opportunities seem endless.
Known for her skills on the lacrosse field, Sarah ended last season with an All-Star Award, a Golden Stick Award, and the Patriot Ledger All-Scholastic distinction. Dedicated to SHS athletics, she plays on three varsity teams--field hockey in the fall, ice hockey in the winter, and lacrosse in the spring. Sarah
hopes to continue playing lacrosse at the college level.
Aside from athletics, Sarah has a passion for journalism and communications. She admires her mom and older sisters because they all majored in communications and pursued professional careers in the field. Nevertheless, Sarah says she wants to "carve her own path."
Building on the skills she learned in her Intro to Journalism class, Sarah is looking forward to writing news and sports stories. Eventually, she would like to follow her family's legacy and work in communications. 
Sarah Irish , Staff Writer
Jan 13, 2021

Mid-Year Exams Canceled

(Story)

Jan 08, 2021

Senior Year vs. Reality 

(Story)

Dec 02, 2020

COVID Restrictions Causing Mixed Emotions for the 2021 Senior Class 

(Story)

Nov 11, 2020

2020 Holidays Present a new Opportunity for Family Traditions

(Story)

Oct 30, 2020

SHS Athletes rise to COVID-19 during 2020 Fall Season

(Story)

May 19, 2020

Summer in Scituate Feels Different This Year

(Story)

Mar 18, 2020

Class of 2021 Prepares for this Year's Prom

(Story)

Mar 11, 2020

SHS Basketball's Ohana

(Story)

Mar 11, 2020

Alicia Keys United Music Fans During This Year's Grammy Awards

(Story)

Feb 04, 2020

Miss Americana Depicts the Metamorphosis of Taylor Swift's Career and Personal Battles 

(Story)

Feb 04, 2020

The College You Attend Should Not Determine Who You Are

(Story)

Jan 31, 2020

Innovation Pathways Questions

(Story)

Jan 29, 2020

New Policy of midterms increases stress

(Story)

Dec 10, 2019

Snow Days Never Get Old

(Story)

Dec 01, 2019

Euphoric Xtreme: The Future of Sustainable Fashion

(Story)

Nov 26, 2019

Thanksgiving Day Football Game Celebrates New Turf Field

(Story)

Nov 11, 2019

2019 Credo Projects Focus on Self-Reflection and Nature

(Story)

Nov 10, 2019

SHS Hockey Programs Looking to Work Together

(Story)

Nov 04, 2019

Senior Night to Senior Morning

(Story)

Oct 29, 2019

Cross Country Team on the Rise

(Story)