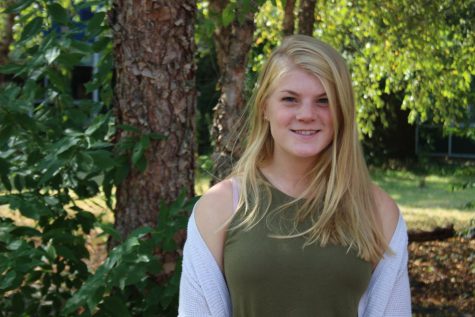 Skylar Rojik is a senior now, but being a leader is nothing new. She's a soccer team captain, the longest tenured player on the girl's varsity basketball team, and is going on her second year as a journalist for
The Scituation.
She just so happens to also be the oldest of five children. It's no surprise that people frequently follow her lead. Described by her friends as one of the most caring and compassionate people in the school, she's able to understand situations and always make the best of them. Part of that understanding comes from her fondness for psychology, the field she sees herself potentially working in when she's older. This interest in how people think extends beyond the classroom, as she loves watching
Monk
- a show centered around a detective. It makes sense that the show is a comedic drama though, because Skylar's best known for her amazing sense of humor. She never takes herself, or any situation she comes by, too seriously. Self-described as an optimist, she takes a glass half-full approach to life, and can find the silver lining in just about any situation. She's suffered multiple injuries in sports that would typically destroy an athlete's mentality. But time and time again, she finds a way to bounce back. So as you can probably guess, she's not too worried about senior year. She wants to stay relatively stress free throughout and really enjoy the last few months she has in Scituate. After college though, she anticipates coming back to Scituate and raising a family here. And if that doesn't work out, there's no reason to worry. When one door closes for Skylar, she knows there's always another just waiting to be opened.
Skylar Rojik, Staff Writer
Jan 08, 2018

Scituate Harbor Shopping Guide for Students

(Story)

Nov 14, 2017
Nov 12, 2017

Pep Rally Plans Revamped

(Story)

Mar 28, 2017

Wicked Local Library

(Story)

Mar 23, 2017
Mar 08, 2017

For the Love of the Game: Boys Basketball Update

(Story)

Dec 13, 2016

Scituation Election Update

(Story)

Jun 23, 2016

Library Launch: The Future of SHS Library

(Story)