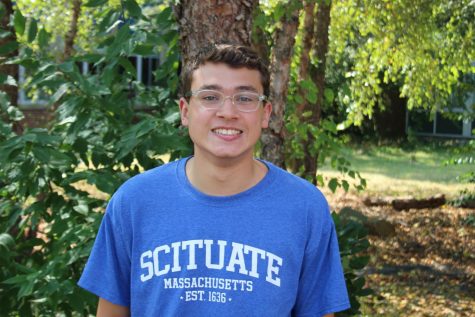 Get to know Ryan Frankel, one of the managing editors on the Scituation Leadership Team. Ryan moved to Scituate from Wilton, Connecticut, in August 2018. His experience moving into a new community as a high school student inspired him to work with the guidance department to create "Smooth SAILing," an SHS program designed to help transfer students adjust to life at SHS.
Ryan is known for being outspoken about his passions and social justice interests. Following the Marjory Stoneman Douglas High School shooting, he worked with several classmates to organize Scituate's "Walkout against Gun Violence." Ryan spent his summer working with Patrick Kearney, Democratic candidate for State Representative of Marshfield and Scituate.
Ryan is interested in German culture and dreams of becoming a German translator for the government. He would also like to apply his journalistic skills by working for Time, Life, or National Geographic. Ryan is passionate about traveling, having visited multiple countries, including Germany, England, Ireland, and the Dominican Republic. He hopes to visit even more countries and report on his experiences.
In the meantime, Ryan participates in multiple sports, such as swimming and cross country. He is currently a captain on the SHS boys cross country team.
Ryan's main goal for his final year of high school is to spread his message of self-individualism and to encourage people to have a voice and work toward making a difference in the world.
Ryan Frankel, Staff Writer
Mar 18, 2019

Coming to Know Myself

(Story)

Jan 17, 2019

Massachusetts' Class of 2019 House of Representatives Celebrate 191st Inaugural Ceremony

(Story)

Jan 15, 2019

Attending the 191st Inaugural Ceremony was Thrilling

(Story)

Jan 15, 2019

Reluctant to Join DECA? Why Not Give it a Try?

(Story)

Jan 15, 2019

SHS Drama Club Scores a Hit with Mamma Mia!

(Story)

Jan 15, 2019

Mingels Takes Directorship at UMass Lowell

(Story)

Jan 15, 2019

We Can't Forget Amnesty

(Story)

Jan 08, 2019

SHS Junior Darcy Milligan is the Toast of SHS

(Story)

Jun 24, 2018

What Comes Around, Goes Around: The Legacy of Paragon Carousel

(Story)

Apr 25, 2018

Future SHS Sailors Visit Quebec in Large Numbers

(Story)

Mar 16, 2018

Student Voices Deserve to be Heard

(Story)

Mar 12, 2018

Scituate High School Walks Out to Demand Action

(Story)

Jan 04, 2018

Americans Can Learn from Germany's Example

(Story)

Nov 14, 2017

Smooth SAILing Program Helps Transfer Students Adjust to SHS

(Story)

Nov 12, 2017

Traveling Can Be Life Changing

(Story)