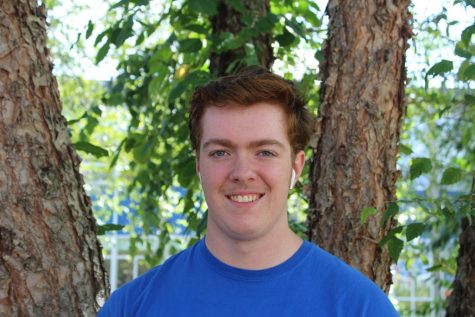 You may know senior Miles Bowker as one of the hosts of the newest addition to SCTV, "The Miles and Danny Show." He works alongside Danny Todd and Hayden Startzell to put on the bi-weekly production. Miles explained that in order to have a successful local television show, he observed and participated in last year's production of "The Cam and Teddy Show." This year, he wants to improve the popularity and visual appearance of the production, stating, "It's a good opportunity to host a show and have a platform where kids in the school can watch."
In addition to his busy schedule as a television producer, Miles is very involved in athletics at SHS. He has played rugby since freshman year, and last year, he played a crucial role in winning a state title.
Looking into the future, Miles hopes to find a job so he can make enough money to support himself and have enough money to splurge on the things he enjoys. Currently, he is employed as a pizza maker at CP's Woodfired Pizza
on the Driftway. He likes the people and the environment at CP'S and feels he's gaining valuable work experience there. 
Miles Bowker, Broadcast Manager
May 17, 2020

Governor Baker Needs to Provide More Clarity for Reopening the State

(Story)

Jan 29, 2020

Remembering Kobe Bryant–Basketball and Beyond

(Story)

Sep 18, 2019

Everything Has Come Crashing Down

(Story)

Mar 01, 2019

Dungeons and Dragons Club Meets at Scituate Library

(Story)

Feb 08, 2019

Air Was Thick with Celebration During Pats Parade

(Story/Media)

Jan 31, 2019

Jack Poirier Breaks 3-Point Record

(Story)

Jan 16, 2019

SHS Hockey–A Hotbed of Talent and Leadership

(Story)

Jan 15, 2019

Plastic Bag Ban Creates Division Among Scituate Residents

(Story)

Jan 15, 2019

2017 Grad Continues his Broadcasting Legacy

(Story)

Jan 03, 2019

SHS Student Creates 5 Dimensional Chessboard

(Story)

Nov 14, 2018

Eastern MA Finals Moved to Hanover High School

(Story)