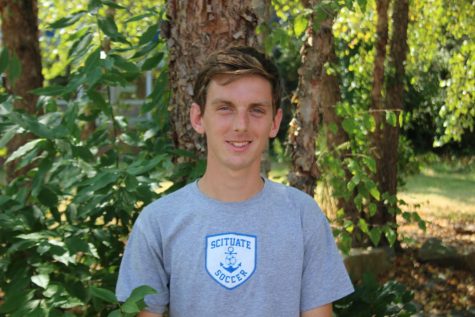 Matt Dipesa, a member of the class of 2018 is returning for his second year as part of The Scituation team. Formerly he was the paper's news editor and now he is one of the three editors in chief for the school's paper. Matt is interested in pursuing a future in journalism. Matt, a Minot resident, is a talented interviewer who loves to write and feels a passion for the trade. He has interviewed many important people in the Scituate community for his articles. A highlight interview being Mr. McCarthy, the former superintendent of Scituate Public Schools.
Matt's favorite subjects at Scituate High are history and English. He loves his AP Government and AP Literature classes. While he hasn't quite decided where he'll be going in the fall, he is definitely planning on heading to college. Matt studies hard and hopes to go on to work for a serious news organization after college. He spends his free time playing soccer for the school's varsity team during the fall season and plays tennis in the spring. During his favorite time of year, winter, he likes to relax and watch
The Office
. He also enjoys listening to his favorite rapper Kendrick Lamar but isn't opposed to Taylor Swift's old country songs. His favorite Taylor Swift song being "
Teardrops On My Guitar
." When Matt is not too busy with his multiple AP classes and the weather is nice, he likes to take his dog, Summer, for long walks on Minot Beach. This routine is very relaxing for him. Matt is looking forward to another great year writing for the Scituation and wants to be the best editor he can be.
Matt DiPesa, Editor in Chief
Apr 03, 2018

Update on Damaged High School Baseball Dugout

(Story)

Mar 08, 2018

The First Step in Solving the School Shooting Epidemic

(Story)

Feb 14, 2018

New Scituate Town Manager Weighs in on Windmill

(Story)

Feb 02, 2018

"Playoff Danny" is Beloved in Scituate

(Story)

Dec 18, 2017

North Korea- The Solution is Simple

(Story)

Nov 28, 2017

Making Space for Creativity at SHS

(Story)

Nov 12, 2017

Underclassmen Make Waves on Varsity Sports

(Story)

Sep 26, 2017

New Beginnings for Chambers

(Story)

May 31, 2017

Superintendent Search Completed: A Follow-Up With Education Leaders

(Story)

May 31, 2017

Success After Scituate: Henry Lockwood's Story

(Story)

Mar 28, 2017

The Superintendent Search is Launched

(Story)

Mar 28, 2017

RealCon: Building Empathy and Understanding, One Conversation at a Time

(Story)

Feb 07, 2017

Brady's Grit Never Quits

(Story)

Dec 13, 2016

Titanpointe: An NSA Spying Station In the Middle of New York City

(Story)

Nov 17, 2016

Summer Recap: New In the Presidential Race

(Story)

Nov 07, 2016

McCarthy Sets Sail

(Story)