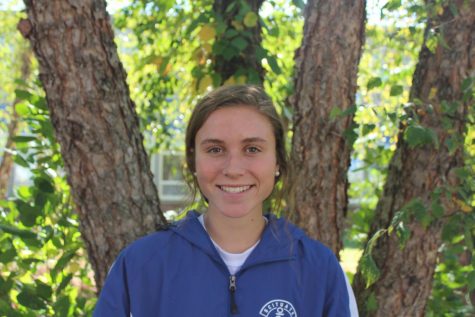 Senior Brigid Bonner is excited to be back on The Scituation team as the co-editor-in-chief
.
Brigid is an adventurous student who is ready to explore the world and show her dedication to her community. Always working, both in school and out, she is an avid learner who is preparing for her future.
Outside of her commitment to academics, Brigid is a passionate soccer player. Serving as varsity captain of the girls' soccer team, she enjoys playing because she can connect with the community and have fun with her friends. She also works with Model United Nations and the Bracketology Club.
Along with being employed as a babysitter, Brigid enjoys spending time with kids and meeting new people. For the past few summers, she has dedicated herself to  "Christmas in July," an organization she founded.  Among her many responsibilities, she enjoys running toy drives and donating to South Shore Hospital and Boston Children's Hospital.
After graduation, Brigid would like to pursue a college degree in communications. She aspires to be a traveling journalist, exploring the world and describing her adventures as she goes along. Hopefully,
The Scituation
is only the beginning of an exciting career in journalism and communications.
Brigid Bonner, Co-Editor-In-Chief
Dec 17, 2019

Soucey Planning to Continue her Game at Fordham

(Story)

Jun 09, 2019

Class of 1966 Graduates Establish a Legacy of Giving Back

(Story)

Apr 29, 2019

DRESSing for the Occassion

(Story)

Feb 27, 2019

Brigid and Stephen–BFFs at Gates

(Story)

Jan 17, 2019

Paige Lydon's Style

(Story)

Jan 17, 2019

Mary Poppins Returns Review

(Story)

Jan 17, 2019

DuBois Believes in the Quell Foundation

(Story)

Jan 17, 2019

Juniors Face Extreme Stress

(Story)

Jan 17, 2019

Crazy Rich Asians Review

(Story)

Dec 21, 2018
Dec 17, 2018

Seeing is Believing on Scituate's Polar Express

(Story)

Dec 10, 2018

The Dog House is a Business with a Purpose

(Story)

Nov 15, 2018

The Emma Chamberlain Effect

(Story)

Jan 09, 2018

January Artist of the Month: Emily O'Connor

(Story)