Scituate Boys Basketball Powers Past Hingham
Scituate shows out for boys basketball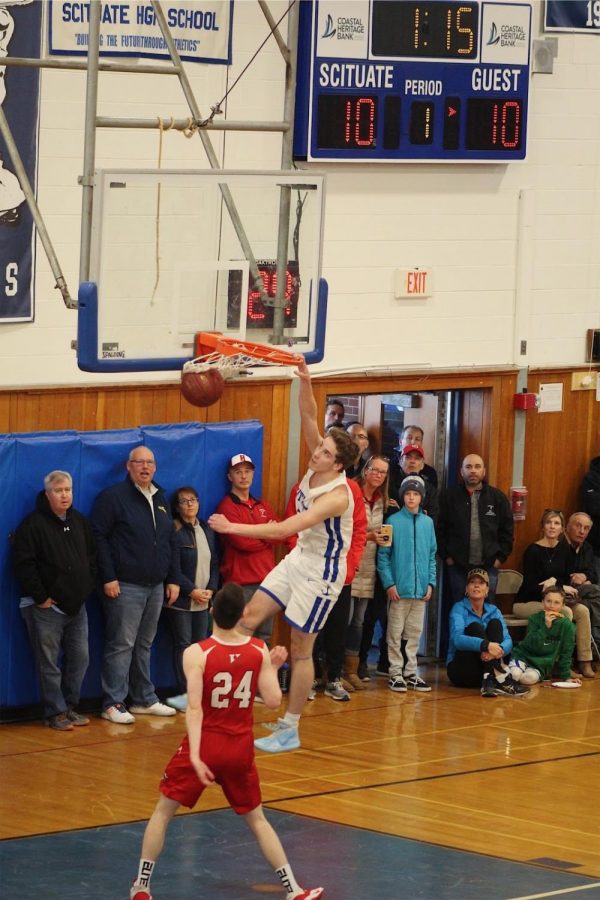 The Scituate High School boys varsity basketball team successfully advanced toward the South-Sectional Semi-Final after a remarkable home victory over Hingham High School with a final score of 74-58. Doors to the SHS gym were opened early at 12:45 p.m. for a 2:00 p.m. game, and the gym and parking lots alike were overflowing with fans. Three full sections of the gym's stands held energized and supportive Scituate students, school staff, friends, and family, which paid off with a well-deserved victory. 
Starting off in the first quarter, the scoreboard demonstrated what was clear to be an intense head-to-head competition as teams traded leads. Scituate fans gained a lot of confidence when #3 Nate Lopes (senior) surprisingly stole the ball back immediately after a turnover to Hingham and dunked it in the last two minutes of the first quarter carrying Scituate to a lead 12-10. 
Within the remaining minute and 15 seconds of the quarter, Scituate managed to score an additional five more points and prevented Hingham from scoring again, concluding the first quarter ahead 17-10. 
Even students from Hingham showed appreciation for the talent Scituate boys demonstrated. Resentful head nods combined with various Hingham dads even clapping for the Scituate students' roar of applause following each point continued to fuel Scituate. 
Throughout the game, ball movement and possession with both teams were plentiful and impressive with some newly added plays from the starting players that surprised even Scituate students. Scituate ended the first half 31-21 after a buzzer-beating basket by #21 Keegan Sullivan (sophomore) in the last 1.3 seconds of the second quarter which literally knocked Hingham off their feet. 
The final player stats of the game included senior captain Jack Poirier with an impressive 21 total points, followed by sophomore Keegan Sullivan with 17 points and 9 assists, and senior captain Nate Lopes with 16 points and 8 rebounds. 
The spirit of the student section was kept alive throughout the game with chants and performances from the Scituate girls cheerleading team. 
The Sailors play Randolph High School on Wednesday, March 4th, at 7:15 PM at Taunton High School. It takes about 45 minutes to get there, so plan ahead!