#8 and #24 Play a Key Role in NBA Tributes
Following Kobe Bryant's tragic death, NBA players honor his legacy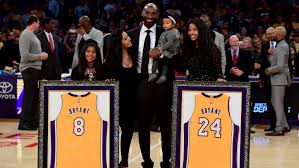 The world was given shocking news the afternoon of Sunday, January 26th, that one of the most legendary players to step on an NBA court, Kobe Bean Bryant, was killed in a fatal helicopter crash in Calabasas, California. All nine passengers were killed in the accident, including his thirteen-year-old daughter, Gianna "Gigi" Bryant. Kobe was a 5-time NBA Champion and an 18-time NBA All-Star. Having been such an important figure in the NBA and basketball culture in its entirety, Kobe's death prompted a strong emotional response among the league and its players.
Because Kobe wore number 8 in the first half of his career, the Atlanta Hawks began their game against the Washington Wizards at the tip-off with an 8-second violation in honor of Kobe, which is when the team with the ball doesn't take it past the half-court line for eight seconds. The Wizards responded by committing a 24-second shot clock violation, as Kobe wore the number 24 in the latter part of his career. 
Several other teams committed these violations during Monday's NBA games as a tribute to Kobe: the Los Angeles Clippers-Orlando Magic, Phoenix Suns-Memphis Grizzlies, Indiana Pacers-Portland Trail Blazers represent a few. Trae Young, the Hawks point guard who committed the 8-second violation, tweeted after the game, "All the Lessons. All the Advice. Every word you ever told me… Will stick with me forever. Thank You, Kobe." Young changed his usual jersey number 11 to number 8 to honor Kobe as well. 
After Kobe's tragic accident, players around the league have honored him by representing his number in a variety of ways. Almost every player currently wearing 8 or 24 has decided to change their number out of respect, while some believe keeping his number is the best way to honor the NBA legend. 
Lakers guard Quinn Cook has decided to change his number from 2 to 28, representing the numbers of Kobe (no. 8) and his daughter Gianna (no. 2). "No. 2 is Gianna's number," Cook said, "I feel it should be retired. It's hers." 
Kemba Walker from the Boston Celtics chose number 8 when he signed with the team in the summer. When asked about what action he would take in regards to wearing the number, he had a lot to say: "I definitely have tons of respect for Kobe. But you know, everyone mourns a little bit different. You know, for me, I'm thinking I would love to honor him by wearing that number. Kobe played hard each and every night, and I would like to honor him by doing the same."
Kemba will continue to wear number 8 in honor of Kobe, while some players decided to change their numbers in honor of Kobe. The Nets' Spencer Dinwiddie switched his number from 8 to 26, and The Magic's Terrence Ross switched from 8 to 31. Mark Cuban, the owner of the Dallas Mavericks, decided to retire the number 24 in honor of Bryant, even though he spent his entire career with the Lakers. 
Kobe Bryant was undoubtedly one of the most influential players of our time, and to see him as a victim of a tragic accident was a difficult experience for everyone affected by his work ethic and character. The NBA's unconditional support of Bryant and his family is a true demonstration of how he has affected generations of young basketball players.