Remembering Kobe Bryant–Basketball and Beyond
Making sense of the legend's untimely death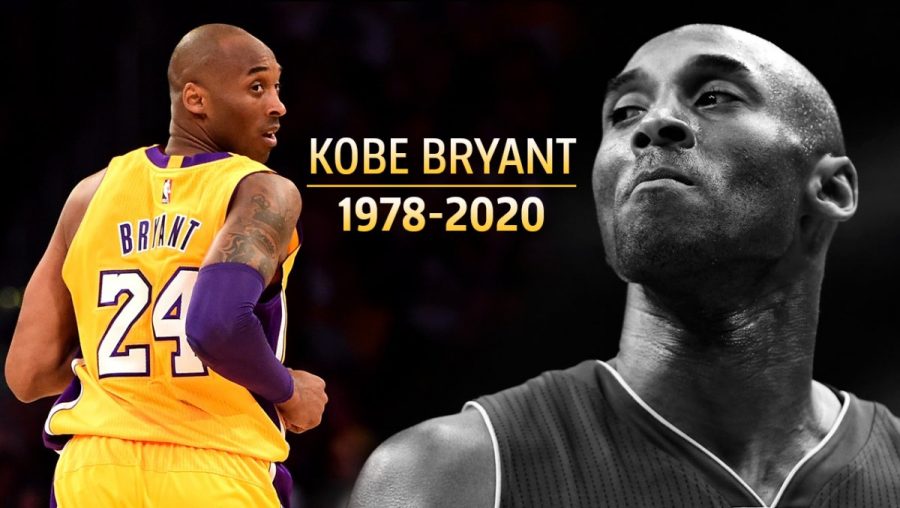 It's Monday night. 
This still makes no sense. Kobe Bryant, the man whose earth-shattering, awe-inspiring achievements on the basketball court were somehow dwarfed by his sheer worldwide influence, is gone. He's no longer on the Earth.
As I write, Kobe is on my TV screen, like he was so many times before. He's dropping 60 in his farewell game, leading his Lakers in a comeback win over the Jazz on the last day of the 2015-16 season. Though Kobe, the incredible athlete, the player who made acrobatic dunks and passes and steals commonplace throughout his 20-year career is gone, the man who remains is not any less Kobe Bryant. He may be a 37-year-old, hobbled with the hurt of two decades of running and jumping, but his willpower remains intact. 
Absolutely nobody could stop Kobe from putting that ball through the basket to the tune of 60 points. Not tonight.
The news of his death broke Sunday afternoon, first through a TMZ report and later confirmed by Kobe's family, and though I have barely stopped thinking about the accident, it seems no less raw, and no more real in my mind than the second I heard it. 
I was at work when I got a text–with a link. The headline was astounding. If TMZ, a celebrity website with a somewhat uneven reporting history, was to be trusted, then Kobe Bryant was dead at 41, killed in a helicopter accident in Calabasas, CA.
I immediately opened Twitter, and I was overwhelmed with the panicked pleas of the 1,000 basketball fans whom I follow. "This can't be real," they all said. "Please say this is fake."
To the collective heartbreak of hundreds of millions across the world, it was not fake. Kobe Bryant, along with his 13-year-old daughter, Gianna, a burgeoning basketball star in her own right, was gone. Gone also was Gianna's teammate, Alyssa Altobelli, her parents John and Keri, basketball coach Christina Mauser, young Payton Chester, and her mother, Sarah, and pilot Ara Zobayan. 
Basketball gave Kobe everything: five championships, hundreds of millions of dollars, and a legacy that will never be forgotten. But Kobe gave basketball so much more. In his youth, Kobe gave basketball his undivided attention, his unadulterated fascination. He gave basketball his passion, his sweat, his time, and a million unforgettable moments. Kobe gave basketball his Achilles, his rotator cuff, and both of his knees. 
More importantly than anything else, Kobe gave a million kids a million dreams. He gave basketball DeMar DeRozan, Jayson Tatum, Kyrie Irving, and about a thousand other stars in today's league. 
If you want to see Kobe, he's all around us. He's Devin Booker's post up game. He's Demar DeRozan's footwork. He's Kyrie Irving's clear out and let me go 1 on 5 mentality. He's LeBron's leadership. He's Luka Dončić, Trae Young, and so many others' emerging stardom. He is eternal.

— Tyler (@TylerAtoms) January 27, 2020
He taught young hoopers across the world his "Mamba Mentality." He taught never to give up, to be the best version of yourself. You may not follow sports, but you knew who Kobe was: throughout his career, he was both the most talented and the hardest working player on the court. He never stopped working, and he took more than his share of injuries in stride. Only the greatest few ever, in any field, have combined prodigious talent with unmatched passion, fortitude, and work. Kobe did.
I never knew Kobe Bryant, but this feels like a personal tragedy for me as much as it is a monumental loss for the entire world. It feels no different than grieving for a loved one, and that's because millions of regular people loved Kobe. 
Perhaps it seems silly, to you, to mourn the man you never once met, but I don't believe that. When something this incredibly tragic happens, when the world is shaken by a loss this staggering, it tends to bring people together. We appreciate each other more than we did before, and we recognize just how important it is to shower the beloved people in our world with our adoration while we can. 
This clarity rarely lasts, though. We return to our world, a world decisively darker than the one we said goodnight to on Saturday evening. We start arguing LeBron vs. Jordan, America vs. Iran, Black vs. White, whatever it is that divides us. We remember Kobe, but we forget the way his death brought us together, in a somber, heartbroken, worldwide embrace. 
I ask that we remember not just his marvelous performances, not just his influence on the NBA of yesterday, today, and surely tomorrow, but also what his death has taught us. We need to love each other. 
Kobe Bryant isn't with us anymore, but he isn't going anywhere, either. His loss doesn't make sense, but it must remind us to love and appreciate the greatest people, in both sports and our own lives, while they're still around. We can't forget that, just like we will never forget Kobe.
I can't wait to tell my kids about Kobe Bryant.

— Miles (@RealMilesBowker) January 27, 2020