Soucey Planning to Continue her Game at Fordham
Madison Soucey Committed to Fordham's Soccer Program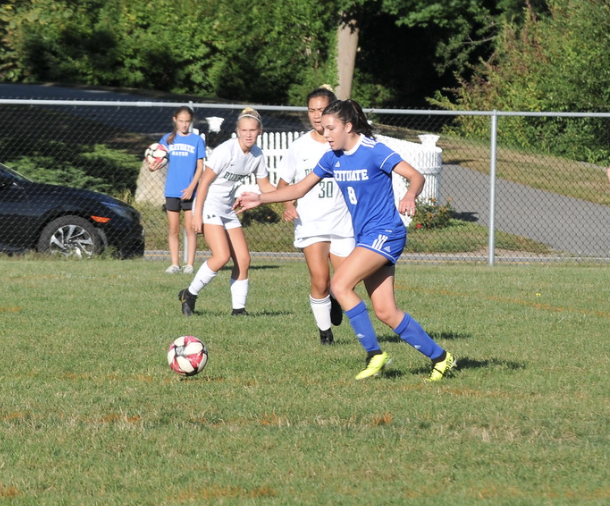 Playing Division 1 sports is a dream for most student-athletes. Students who are able to move forward with their athletic careers typically play at Division 3 schools. However, SHS junior Madison Soucey recently committed to play Division 1 soccer at Fordham University in New York. Soucey has grown up with a soccer ball at her feet and has no intention of stopping soon. She recognized soccer as her passion during her sophomore year and "decided to pursue it."
Beginning freshman year, Soucey was a star player on the SHS girls varsity soccer team. "I feel Madison gained respect from everyone in our soccer program as a freshman–she had a positive impact within the program from the very first day," says SHS girls varsity soccer coach Rob Williams. Throughout the years, her incredible work ethic and positive attitude have led her to be awarded captain as a senior for the fall 2020 soccer season. "She plays the game with her heart on her sleeve and has a great attitude to everything she does," says Williams.
Soucey has something special on the field. She forms an exceptional bond with her teammates–to the point that she could create plays on the field with her eyes closed. "She has every single strength you could imagine," says senior captain Sophie Patterson. "She is a very tactical player who has a high understanding of the game and finds herself in the right position on the field at all times due to her ball movement," explained Williams.
Soucey has been an incredible asset to the team and will continue to be a great leader as captain next year. Soucey's love for the game is strong, but even more, she says she enjoys the "team aspect and building relationships with people." When asked to explain her favorite thing about the 2019 SHS girls varsity soccer season, Soucey explained: "We were so close this year, and we played really good because of it." Soucey's characteristics are a strong attribute to the team and serve as a role model for the younger players. "She is probably one of the nicest people on the team and encourages everybody on and off the field," said senior captain Courtney Cutting.
Being committed at a young age has been a stress reliever, Soucey explains. However, she has worked hard in both athletics and academics. To the future aspiring student-athletes, Soucey says, "Academics matter as much as sports." Cutting recognizes Soucey as a role model for future athletes coming into the program: "She works so hard… everyone appreciates her."
Soucey has one more chapter here at SHS before she continues her story at Fordham. Her surrounding peers and teammates have experienced her bright attitude here at SHS, and they know she will be a positive attribute to Fordham in the classroom and on the field.