2020 Seniors Put the "Social" in Social Distancing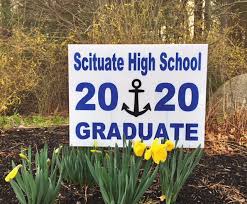 Amid all of the craziness of the COVID-19 pandemic, it is obvious that the Scituate High School graduating class of 2020 will not get to have a normal senior year. Speaking from the perspective of being a senior myself, it is definitely upsetting that the whole class can't be together as we approach the very final days of our Scituate High School careers. As disappointing as this is, the senior class (thanks in part to the dedication of our incredible class officers) has come together from the comfort of our own homes in quarantine. 
Social media has been a huge way for seniors to stay connected to their classmates. Starting in mid-April, the Instagram account @scituate_2020 has been posting "Senior Spotlights." These posts include the student's senior picture and plans for next year, whether that be school, a gap year, or another path; the post also includes college-bound students' intended majors. So far, over 150 seniors have been recognized with a post. Personally, I look forward to seeing each new post and get excited to wish my peers luck with their future endeavors. These posts have been a huge way for the seniors to connect with one another when we are not able to see one another. 
Additionally, multiple seniors have stepped up and taken the initiative to create videos that involve many members of the senior class. One of these videos, created by seniors Tatum Swanson and Katy Granatino, features numerous seniors recounting their favorite memories at SHS in short clips. The video is almost 14 minutes long and has been viewed all across the Scituate community. Projects such as this one provide comfort to students and encourage them to realize we can always look back on the funny, heartwarming, and remarkable memories we've made together during the past four years. Another video, made by seniors Brigid Bonner and Louise Benning, includes a compilation of inspirational messages from 37 members of the 2020 class, promoting a spirit of gratitude and positivity during this difficult time. It is refreshing to see our class come together and create original digital messages that comfort one another and remind us all of all the amazing achievements we've experienced in the past four years. 
The whole town is recognizing the accomplishments of the class of 2020 through the yard signs available to the families of graduating seniors. For many years, these signs have been a significant way to congratulate the students who are moving on from Scituate to new paths far and wide. This year, the yard signs have been especially popular; in fact, it took my mom and me two different trips to the bus loop in order to finally get our hands on one after they sold out the first time!
The 2020 seniors have not had an easy run. Amidst a pandemic, our hard-earned senior year was taken away from us in what seemed like an instant. We won't experience the graduation events we've dreamed of throughout high school: no graduation ceremony in May, no senior assassin, no elementary school visits, no last day cookout. However, even though we can't all be together, we can be there for each other. Each and every senior at SHS–and every high school senior across the country–is experiencing the same emotion: grief. The best we can do right now is to support our peers and reflect on all the memories we've created. 
Congratulations to all my fellow seniors, and go Sailors!