Dear Underclassmen…
Hannah Sylvester shares her reaction to Gov. Baker announcement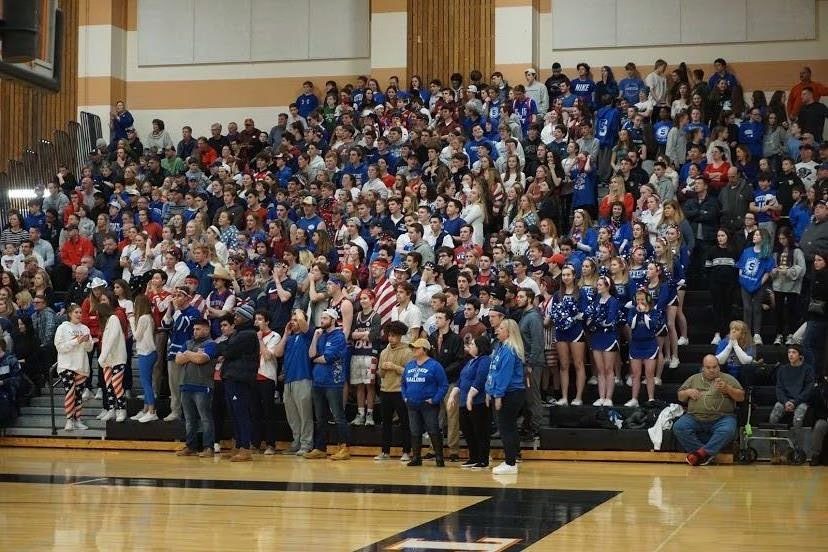 Dear Underclassmen, 
They always say "savor the moment," "high school flies by," "it is the fastest four years of your life." But what happens when that time is stolen out from under you? No one prepares you for the unknown. No one warns you how precious time truly is. 
No one prepared the Class of 2020 for this…
Today marks the day COVID-19 hurt seniors the most. Governor Charlie Baker announced the cancellation of all schools in Massachusetts for the remainder of the 2020 academic year. At first, when I looked at the television, I couldn't believe it. I stared at the words across the screen and still needed to hear him say them. I knew this was coming–it was inevitable. Every possibility I once thought unimaginable has come true during these past few weeks. Almost every norm I have ever known has vanished during these past few weeks. 
And now my senior year is ripped away from me. 
My heart goes out to everyone impacted by COVID-19: Doctors, nurses, healthcare professionals, all essential workers, victims, families of victims–my heart aches for you. But today, my heart aches for all the high school seniors of Massachusetts. 
Graduating from Scituate High School is a milestone I have always taken for granted. Throughout my four years, I imagined myself with my friends–in our caps and gowns walking across the stage–waving awkwardly and smiling at my loud family. I imagined the all-night party with the people I grew up with from elementary school field days and Open Circles and middle school dances and WEB Day and winning the State Championship at Gillette and enduring endless school fire drills.
I imagined the senior dinner dance, which I heard is more fun than the prom. I imagined crowding the bathroom with nearly all the girls in my grade screaming and singing at the top of our lungs. I imagined parading through the halls of the high school–on top of the world–celebrating the last day of school. I imagined the bittersweet feeling of pulling out of my parking spot for the last time. I imagined senior nights at sports games. I imagined every "last time" at Scituate High that I would remember forever. 
Despite all of my visions of my senior year, my reality is the exact opposite of these fantasies that students from the grades before me called "traditions." My reality is not having seen my friends in months during the last semester of our senior year. My reality is Zoom classes. My reality is Google Documents and Kahn Academy. My reality is wearing a mask when I'm leaving the house. 
My classroom is my couch. My cafeteria is my kitchen. My administration is my parents. My classmates are my siblings. 
I didn't sit in my classrooms knowing it would be my last few days at school. I didn't sit at the high tops knowing it was the last time I would hang out with my friends. I didn't hear Mr. Roberts greeting us with "Good Morning D Block," followed by a silly SpongeBob reference for the last time. I didn't hear the last bell song. I didn't answer the last attendance question from Mr. Maguire. I didn't hug Mrs. Hall on the last day. I didn't draw in chalk on my parking spot. I didn't have a Derby Day, a beach day, a Senior Skip Day, or any Senior Week themes. 
My last day of school was a random Thursday–March 12, 2020. 
I was checking my heartbeat all day, anxious from the fear of COVID-19. Suddenly, COVID-19 became the only topic of conversation on that day in school. I was so anxious about this virus–it was all I could think about all day. I was worried about my grandmother. I was worried about my grandfather–and my dad working with COVID patients in the hospital. I was worried about what the future would look like. I barely talked on that Thursday because my mind was moving so rapidly.
I did not know that was my last day of high school. I sat in all of my classes for the last time, and I can barely remember it. I can't tell you what I learned on that day or what we did. Although I can tell you we talked about Coronavirus all day in every block. 
So, underclassmen, I want you to read this and understand that high school is precious. Normalcy is precious. Those classmates and teachers who may drive you insane are precious. Everything can be changed so quickly. During this unprecedented time, I urge you to see us, high school seniors, as a lesson. You have been blessed with the opportunity to see how quickly everything you love–and everything you don't realize you love–can be stripped away from you so fast. 
Thank your teachers. Hug your friends. Talk to the people you don't normally talk to. Take the classes you are interested in. Take as many Mr. Maguire classes you can, and don't pass on the morning attendance questions! Raise your hand and ask questions. I beg you to appreciate being in the company of hundreds of people who are learning.
Remember moments that make you happy. Take pictures of everything–even in school. Keep a journal. Hang out with your friends, and tell them you love them. Go to the Friday night football games. Go to the dances. Realize how lucky you are to dance within a foot of someone at Prom.
When we go back to the way things once were, remember how you feel right now. Find more gratitude for the small things you once thought would last forever. Appreciate and love every moment with everything you have in high school. 
Most of all, underclassmen, I hope your senior year in high school is exactly what you imagine it to be.
Sincerely,  
Hannah Sylvester, a member of the SHS Class of 2020