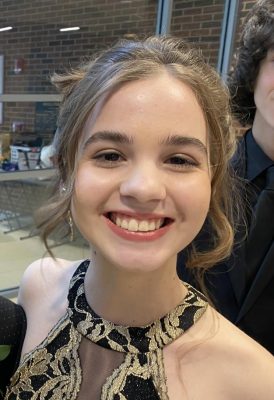 To put it lightly, Elizabeth Larkin has had an eventful senior year: In addition to being accepted to Cornell University in Ithaca, New York, an Ivy League school, she was named a National Merit Scholarship Finalist, a phenomenal distinction shared with approximately 15,000 other top high school students across the country. 
SHS math teacher Jonathan Schindler, who taught Larkin for two years and served as the faculty advisor to the Debate Club, of which she is a team captain, commented that she is a "really driven student with a general curiosity for learning." Larkin's homeroom teacher and programming teacher, Kerri Hallihan, added, "She's absolutely dedicated and loves to learn."
Larkin's peers share a similar, upbeat view: Senior Paige Thorton commented, "She's very determined and straightforward," adding, "when something needs to get done, she gets it done. When something needs to have the lead taken, she takes it."
Upon learning her status as a finalist for the National Merit Scholarship, Larkin remembers feeling "very excited." She admitted she "wasn't too surprised," considering she had been updated throughout the process and had "put a lot of work" into it. Nevertheless, she was extremely "joyful and happy" when she heard the news and was excited to share it with those who have assisted her.
Saying she was "not very surprised" when Larkin was accepted to Cornell, Thornton was thrilled to learn her friend is a National Merit finalist: "It's good to know she's getting the things she deserves." Hallihan admitted she was "not at all" surprised after learning of Larkin's achievements, as she believes "she's amazing." Similarly, Schindler remarked that he's "always seen the level she's achieved at with an upward trajectory."
The process of becoming a finalist begins with earning a PSAT score that is high enough to qualify for the scholarship program. After learning she was a semifinalist, Larkin was prompted to write an essay similar to the essay on the CommonApp. She had to write this essay "around college application season," so it was difficult to complete while also completing college applications. Larkin said the form itself "wasn't troublesome."
While reflecting on what this incredible accomplishment means to her, Larkin exuded pride and satisfaction. Beyond the scores, Larkin feels the gratification of knowing she successfully "juggled a multitude of things," including being a leader of multiple clubs and a frequent participant in dance. Larkin commented, "The fact that this paid off is extremely rewarding."
Schindler expressed his pride in Larkin, explaining, "She's the one putting the work in, and she's the true achiever in this situation. She's taken most advantage of her opportunities." Hallihan echoed this sentiment, saying Larkin "works so hard, and she deserves it."
Thorton reflected on her friendship with Larkin, saying she's known her through elementary, middle, and high school, and "it's been great to watch her growth."