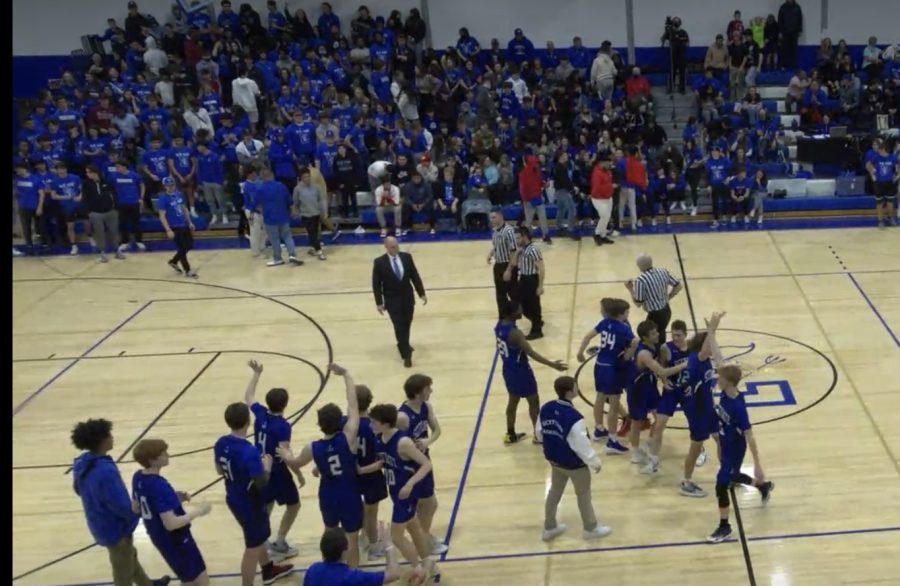 The SHS boys varsity basketball team pulled off an upset yesterday, Tuesday, March 8th, in a clash with the Leominster Blue Devils, winning 51-47 at Leominster High School. The game results ended Leominster's 14-game streak of dominating on their home court this season.
The Sailors proved that teamwork makes the dream work with their impressive display of an all-around team effort, with a cast of Sailors all contributing to the win. Senior captain Sam Benning bucketed a clean 11 points with a "side of clamps" on the defensive side. Benning showed his versatile playmaking abilities with pull-up jumpers and assists.  He dominated the entirety of the Lemonister team.
But Benning's teammates didn't let him have all the fun: fellow senior captain Keegan Sullivan had a light double-double, with 12 points and 10 assists. Showing his talent throughout the whole season, sophomore Michael Porter proved why he is capable of being a sophomore starter on varsity, dropping a team-high of the night of 14 points.
The Sailors' bench mob fueled the Sailors' unrelenting fire in a gritty win. This team played fundamental team basketball all night, allowing them to keep dancing through the tournament. The Sailors will continue their winning streak, facing off against the Wakefield Warriors this Friday at home at 6:30 PM. Make sure to support your Sailors this Friday, March 11th, and wear your Saint Patrick's Day spirit!
Tickets for Friday's game will be on sale on gofan.co.