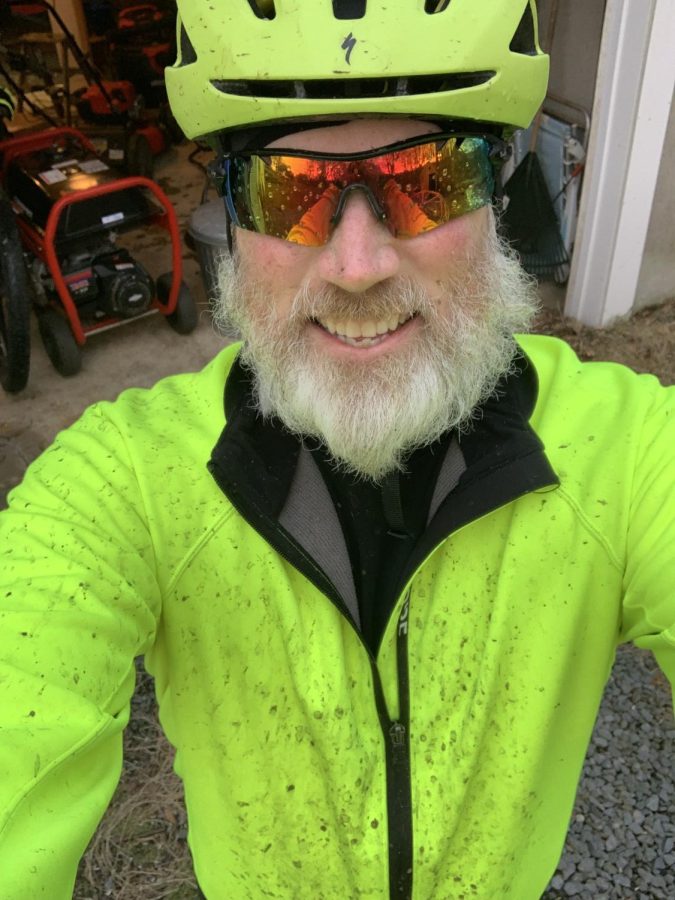 Stephen Maguire
As 2022 has quickly rolled around, New Year's resolutions have become a hot topic. Some still feel motivated by the fresh slate brought by the turn of the year, while others feel indifference toward it. These conversations beg the question: What about resolutions entices some and repels others? 
Stephen Maguire, Scituate High School's oceanography and ornithology teacher, was willing to open up about his New Year's resolutions. His goals center around his family, his students, and bettering himself. Maguire is a cyclist and has become obsessed with the feeling of being outdoors and experiencing nature. Last year he rode almost 4,000 outdoor miles on his bike. This year, his New Year's goal is to break his record and ride 6,000 miles. Maguire says if he can "stay healthy, injury-free, and find the time" he thinks he can do it. As for his family, Maguire wants to be more patient with his four kids, ranging in ages 7 to 12 years old. "Trying to role model patience for them is really important," explained Maguire.  
As an avid naturalist, Maguire's professional goals involve encouraging his students to spend more time outdoors. "More so than ever, my goal is to get students outside more and off/away from phones and technology. We go to school in such a beautiful place, and my goal would be to help kids see more of the amazing outdoor spaces in town," Maguire said. He believes students should take advantage of their surroundings and learn all they can from their environment. With this resolution, his classes will be more interactive and hands-on, giving his students the opportunity to learn and observe their town more closely. Maguire's resolution is one that benefits not only his own mental wellbeing but the entirety of his students as well. 
As is oftentimes the case with New Year's resolutions, Maguire does admit to some past failures: "Some years are better than others," he commented in regards to maintaining his resolutions. SHS junior Kelly Horan said she skipped the tradition of naming a resolution this year for similar reasons: "I did not have one this year because I felt the pressure of one always makes me feel worse when I don't accomplish it. When I have one, I don't always accomplish it for different reasons, and I feel bad about myself when I don't, so I decided to stay away from it this year," she said. Instead, Horan hopes to feel accomplished and confident after achieving goals in a casual routine, without labeling them as set resolutions.
SHS senior Justin McNamara felt similarly. As an avid runner, McNamara enjoys running daily to meet his exercise goals. With his routine already in place, McNamara avoided going the resolution route this year: "I didn't [create a resolution] because I felt I wasn't going to be able to keep it up, but also because I felt like I didn't need one, and I had a lot of things going on already," explained McNamara.  Already satisfied with his habits, McNamara decided adding resolutions would create unnecessary stress and put his current routine at risk. 
It seems the question as to whether New Year's resolutions are helpful or hurtful will remain for the most part unanswered.  The power of resolutions varies from person to person, depending almost entirely on mindset and circumstance. If you thrive under pressure and can readily develop habits, then resolutions could be helpful. If you have already crafted a routine and don't respond well to stress, then work on building loose and healthy habits as a goal. No matter what your mindset may be, a new year has begun. With it, there's a chance to start anew, whether through resolutions, easy-going habits, or perhaps a combination of both.