Syracuse Students Form #NotAgainSU Movement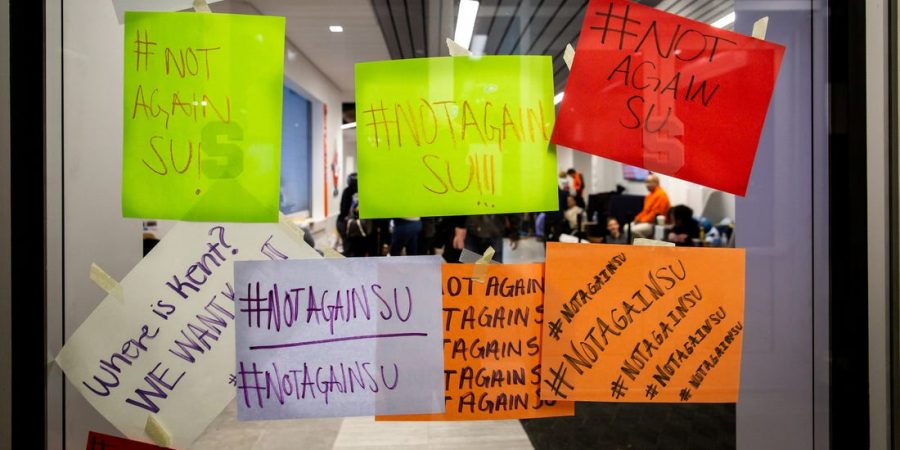 The vandalization of bathrooms containing graffiti of racial slurs. Multiple cases of swastika symbols shown throughout campus. Racially motivated verbal assault of African American students. These are only a few of the multiple reported incidents to occur on Syracuse University's campus. Due to the administration's reluctance to take action, the students of Syracuse decided to take justice into their own hands, by starting the protest movement #NotAgainSU. 
There had been at least 16 racist incidents, primarily directed toward the Asian and African-American communities, reported on or near Syracuse University's campus between November 7th and November 21st in 2019– that's only two weeks. Syracuse University officials had addressed and condemned these incidents but taken no action on them. This isn't atypical either, as Syracuse University has a history of ignoring calls to necessary administrative change in response to racist incidents on campus. 
With the help of social media, the protest movement #NotAgainSU had come to fruition with means of "protesting the racial incidents that have been occurring on Syracuse U's campus because they are being swept under the rug by the administration," as defined by the movement's Instagram page. #NotAgainSU is a black student-led movement that "believes transparency from the administration is necessary" and emphasizes that the safety of students on campus, especially minority students, is "paramount." 
Some actions taken to raise awareness for the movements are included but not limited to sit-ins, walk-outs, sleep-ins, teach-ins, open-mic and karaoke nights, and self-defense workshops, mostly having taken place at the Barnes Center on campus. Maya Heger, a current SU senior (and 2016 SHS graduate), participated in two of several sit-ins. According to Heger, there were "many students of all ages, races, and religions coming and going throughout the days and nights showing their support for the movement." 
The goal of these protests was to unite and educate the student population, but more importantly to bring awareness to the administration to meet the demands of the students, particularly Chancellor and President Kent Syverud. Some of these written demands included different punishments for different levels of involvement in incidents, the creation of a new curriculum for the education of diversity issues, and the development of a new multicultural office building.
Syverud and the administration were able to meet 16 of the 19 demands of the students participating in the movement. According to Heger, SU administration was decently equitable through the process. She explained, "I think the administration did what they could to meet as many demands as possible. I saw administration working to meet student demands as best they could in terms of changes they could make to curriculum, housing, etc. while simultaneously abiding by laws and regulations." 
With these new demands for racial equality being implemented, students are hopeful that Syracuse University will be able to recognize, value, and protect diversity in the student body moving forward.