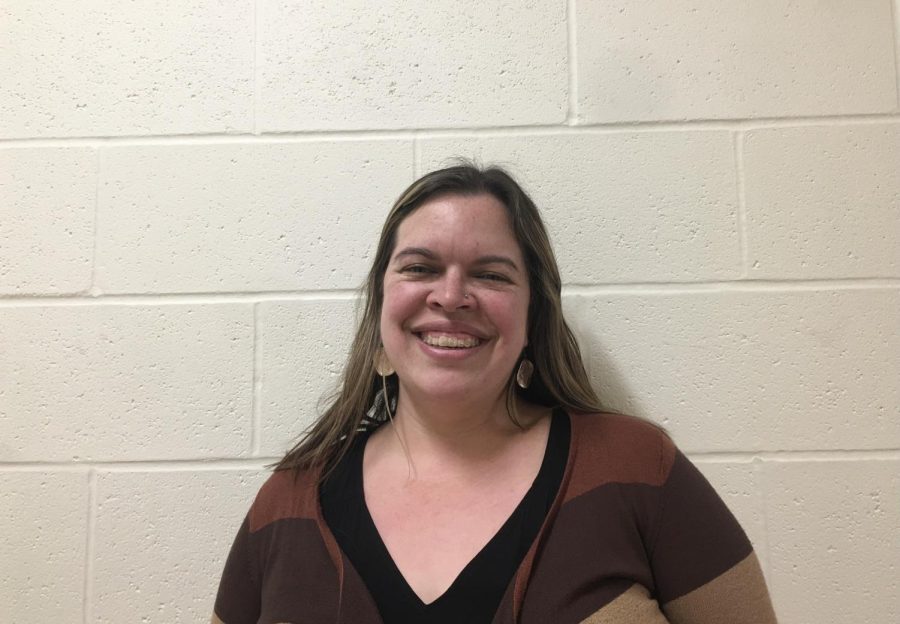 The music department's piano accompanist plays a vital role at Scituate High School. In fact, without an accompanist, students who participate in chorus are lacking the true magic of the music. So when the established SHS accompanist of 15 years left for a new position in Florida, a gaping hole opened up in the lives of music students at both SHS and Gates–begging the question who would play for the Scituate choruses now? 
Over the 2021-2022 summer vacation, auditions took place to find a new accompanist. According to SHS music teacher William Richter, the director of the SHS Chorale and Select Choir who conducted the search, after one audition, it was clear there was one person for the job: Sarah Troxler.
Growing up, Troxler was first introduced to the power of music at her church. She fell in love with the way music could reach people, and she particularly loved the piano, so she began taking lessons and playing at local nursing homes. 
Years later, Troxler's love would transform into an entire career. She earned her Bachelor of Arts degree in Piano Performance from Eastern Nazarene College in Quincy; however, Troxler found soloing extremely lonely. To alleviate the loneliness, Troxler began to explore collaborating with other artists: "I also started to get the experience of working with musicians…and I found that I really loved those experiences, and so when I went on to get my Master's, that's what I pursued is collaborative piano," she said. Studying at the Longy School of Music, Troxler said her education fed into a wide variety of careers, including work as a vocal coach for singers and choirs across the greater Boston area, before she accepted the position at SHS. 
Last year, when Troxler learned Scituate's accompanist was leaving, she jumped at the chance to apply: "I had to try to come here, and I heard great things about the program. I heard great things about the students," said Troxler on her desire to come to Scituate. 
When Richter began interviewing musicians for the position, he wanted to test individuals on their ability to sight-read, as it's a very important skill. For the auditions, he crafted a simple, two-step process to test these skills: "For each of the applicants, I asked them to basically take a look at a piece of music that they've never seen before and play it as I conduct. And then the second time, I'm gonna mess around a little bit–I'm gonna change the tempo or change the dynamics," Richter explained.
There were a great number of applicants, as the position of Piano Accompanist is not widely available on the East Coast. Despite this, and the fact that Richter had never met Troxler, there was an almost immediate click between the two. Richter only ran through the piece once when he realized he had the right pianist for the job: "I realized right away that sight-reading is not a problem for her in the least," he said. Completing both sections of the interview in only one run-through, Troxler aced her audition, proving she was the right person for the job. 
Both Richter and Nadia Davis, the choir director for Gates Middle School, agree that working with Troxler represented a giant change following the departure of their long-time pianist. "She had very big shoes to fill," Richter admitted when asked about Troxler. Davis said the previous accompanist could "read [her] mind" as she changed specific parts of the music that she didn't like. Nevertheless, Davis agreed with Richter, stating Troxler is a "great pianist."
Troxler's skill as a pianist is inarguable; however, her affinity for intrapersonal connections is also notable. In fact, every individual interviewed (barring the humble pianist herself) testified to her skill in this area. 
In the students' opinion, Troxler is not like any other teacher in school. In fact, while some of the Gates students call her "Miss Troxler," the SHS chorale students call her by her first name: "It's like Sarah is not even a teacher, but we still respect her, obviously," commented freshman Ginger Stone. "I can make jokes, with her, with a lot of stuff, without immediately worrying about being expelled," she said.
On the Gates side, Davis commented that "having a different role, makes her more accessible," and that Troxler "has a way of communicating with students in a way that I'm not." Davis has played piano herself for twenty-five years and can play the parts when Troxler has to leave for the high school halfway through Davis's middle school class. While she admits that sharing Troxler is doable, Davis said, "It's a struggle for me to play parts," while Troxler can play them effortlessly. 
Outside of playing the piano, Troxler plays the violin and is learning to play the ukulele. When she's not practicing, she enjoys being outdoors–especially while hiking. Troxler also practices meditation and yoga, and she likes to crochet. 
Troxler said she loves the SPS music program, too, singing praise for Scituate students and staff: "My first day, people were so welcoming–like I said, before, the music department here is a place where I know students have a safe place to have a safe haven in the theater department as well, and I felt that coming in," she said, adding, "It's been perfect that I've been able to make a home here in Scituate."