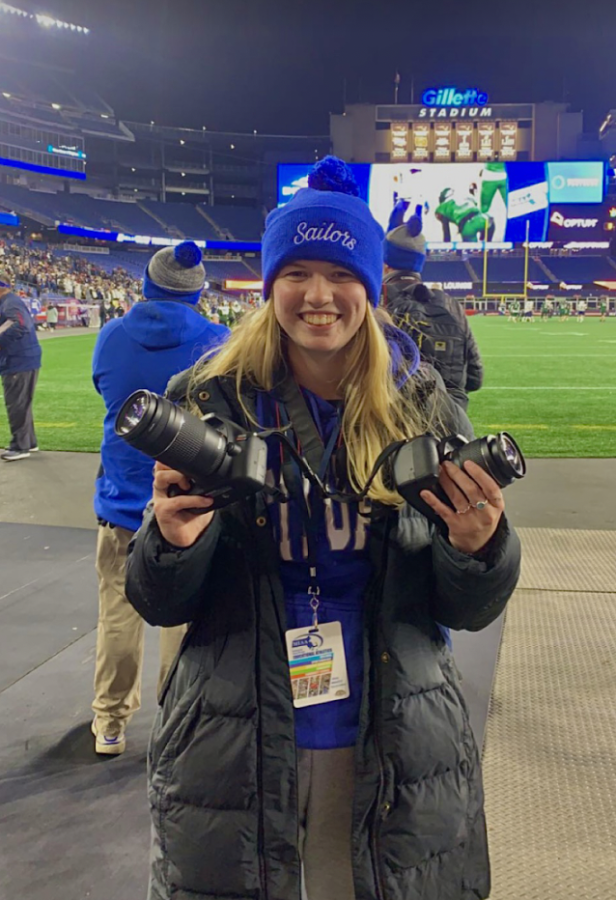 "Sailor Superfan" is a name used to describe extraordinary supporters of the SHS athletics program. The Sailor Superfan Instagram account (@sailorsuperfan) updates the student body about sporting events and creates a shared sense of excitement for them throughout the school year. But who is Sailor Superfan? While the answer to that question remains a mystery, there is one person who embodies the excitement and pride of being an SHS Sailor: Senior Abigail McMellen, the school's sports photographer. 
During her junior year, McMellen originally spent time recording sports games for a student government project. However, after her work gained more visibility, McMellen was encouraged to join the SHS Yearbook Club by assistant principal Karen Hughes, who is serving as the club's faculty advisor. 
As the yearbook's senior photographer, McMellen travels near and far to the high school sporting events to capture the action for all teams. Saying she always "loves seeing photos of athletes in the middle of a game or competition," McMellen said images "capture what is usually a fast-paced and high-stress situation into one moment in time." Despite the challenges of sports photography, McMellen feels the "reward when you get the perfect shot" makes it all worth it. For sports like hockey or basketball, McMellen said she "often photographs athletes when they are on offense or have possession of the ball/puck." For gymnastics or cheer, on the other hand, she usually looks for group moments or different skills that could be captured well. 
McMellen takes her role seriously as she captures memorable fan activity at sporting events. Saying she tends to look for particularly spirited fans, McMellen likes to photograph families who are cheering or chanting in order to get the most impactful picture. After being granted access on the Gillette sidelines during the football team's championship game, McMellen captured the thrill of students, parents, and players alike. McMellen was overjoyed to be a part of the celebration and said she felt all kinds of emotions as she was able to experience the team's victory from the sidelines: "It was a one-of-a-kind experience," recalled McMellen. 
This superfan's photography does not stop at the sidelines, however. McMellen regularly takes candid photographs at school, during senior class events, or just around town. During the fall semester, she assisted classmates in her English class as they participated in a class offsite, which was an opportunity for students to take photos of Scituate Harbor for their final project. McMellen also noted that "many of the photos that will be in the yearbook are candids of seniors." She hopes these photographs, in particular, will offer a unique insight into the Class of 2022 and their experiences.