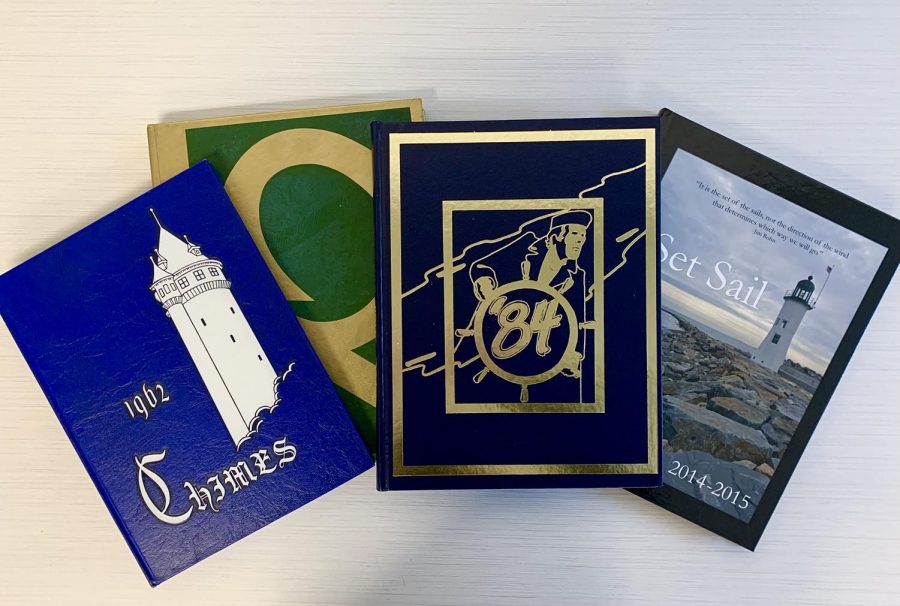 Valentine McNeilly
Yearbook Class, an SHS elective that attracts students from every grade, has been transformed during the 2021-2022 academic year. From new advisors and different meeting times to student opinions–here's the stitch. 
One of the biggest changes to the yearbook this year is how the members meet and complete their tasks. During previous school years, students were able to sign up for the yearbook as a class, and they met during an assigned class period. Starting this year, however, the yearbook has shifted to a club that meets on Tuesdays during H block. This shift was the result of the lack of students who signed up for the class. The decision to make yearbook a club, however, ended up paying off, as participation has grown exponentially.
Currently, almost 20 students from all grades take part. Senior Abigail McMellen, student photographer for the yearbook, contributes this rise in student interest to the convenient H block meeting times, explaining how it's "a good time for most people to meet and get a lot done" without having to occupy a full block. 
Despite all of the modifications to the club that have occurred this school year, many members feel as though there is still room to grow. McMellen suggests adding a student advisor to work closely with club advisors to make participants feel like they have more input in ideas and executive decisions. She feels the meetings are organized because there are set goals and structure, but "not everyone has a role or knows what to do or how to contribute."
Stacey Hendrickson, retired SHS art teacher, was the yearbook advisor for many years. With her retirement, SHS Assistant Principal, Karen Hughes, stepped up as the club's advisor this school year. Hughes has 27+ years of experience teaching visual arts courses at a variety of middle and high schools in the Northeast but is new to the yearbook process. Nonetheless, Hughes said she is "so excited because it leaves a legacy of what students have gone through during the year, especially seniors." Hughes believes this job is one that should truly represent the students' voice. Hughes noted that she was eager to step into this role because it was something she always wanted to do. According to McMellen, "Ms. Hughes has done a pretty good job transitioning into advisor and could be a good fit for yearbook." 
Right now, the club is working on the theme of this year's book. They are considering "building a legacy" and "all in together" with plans to connect back to what the students have gone through these past few years. Greg Ranieri, SHS business teacher, handles the logistics that go into producing the yearbook. Hughes explained, "He is in charge of the accounting side to it, the business portion of it, the sponsorships, getting the ads for the yearbook, and has helped me a lot because this is new for me." 
Undoubtedly, the students and staff members who are working on the yearbook are excited to see what this year has in store for them, and what they will be able to accomplish. According to Hughes, they are "just having fun with it and starting a new chapter. Anyone who wants to join the yearbook should join."