Why UMass is Still #1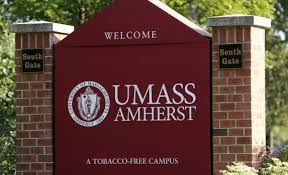 UMass Amherst is undoubtedly the most popular university that students attend after their time at Scituate High School. According to Naviance, 107 students in the class of 2019 applied to UMass Amherst, 68 were accepted, and 22 enrolled. These numbers remained similar to the Classes of 2018 and 2017.  
According to SHS guidance counselor and department chair Tammy Rundle, many more SHS students transfer to UMass Amherst than transfer out. "I don't have a lot of students transferring out of UMass once they go, but I have a lot of students that want to transfer in," Rundle explained.
So, what's so special about this university?
For starters, the school is reasonably priced. According to Naviance, the price of in-state tuition at UMass Amherst is $15,030. This is cheaper in comparison to the average in-state tuition of colleges in Naviance, which is $16,452. Considering UMass Amherst is a flagship university and considered the best public college/university in Massachusetts, this is an impressive deal and an important factor in many students' decision to attend. SHS alumnus and current UMass freshman, Julia Babb, explained how the price swayed her decision: "The majority of my tuition was covered by scholarships, and with the low traveling expenses, UMass was the best choice of school that will leave me in the least amount of debt after graduation."
Despite its more affordable price, UMass Amherst offers an above-average education. With a 77% graduation rate, an 18 to 1 student ratio, and 90 majors to choose from in 10 different schools/colleges, UMass offers a complete and reliable education. It also offers a BDIC (Bachelor's Degree of Individual Concentration) major, which essentially allows students to design their own major if it isn't already offered. The school also has a 58% acceptance rate, making its admission process somewhat competitive.
UMass Amherst's location and campus are also key factors in its success. The campus is situated in Amherst, MA, which is commonly known as one of the best college towns in the country. The 1,463 acre campus holds 22,748 undergraduate students, making it one of the largest universities in New England. The town of Amherst is as New England as it gets: beautiful autumn foliage, green mountain surroundings, and a high concentration of true New Englanders. Downtown Amherst is an ideal destination for shopping and eating out with friends or family. If you're looking for a large university in the middle of a large New England town with plenty to do, UMass Amherst could be the perfect school for you.
With four dining halls on campus, UMass Amherst's campus food is also rated #1 in the country by The Princeton Review. Its diverse selection and locally sourced options give it an edge over most universities. 
According to Niche.com, the university's "party scene" is also ranked as A+. It didn't earn its nickname "The Zoo" for nothing! Also, with many from Scituate attending UMass Amherst, SHS graduates have the opportunity to make new friends while still being with the same friends they made in high school. Current UMass Amherst sophomore James MacDonald said that one of his favorite things about the school is "meeting people from all around New England that I became friends with that I wouldn't have met otherwise."
Although UMass Amherst is an amazing choice of school, it's good to keep in mind that it's not for everybody. UMass Amherst is massive, and it may be difficult to navigate the campus if you don't have your own mode of transportation or don't like walking long distances. The New England weather can be harsh, so if you want to be somewhere sunny and warm, "The Zoo" probably isn't for you. It's relatively easy to catch Scituate people in passing at the school, which can also be a dealbreaker for some. If these aren't issues for you, then UMass Amherst can be a great choice of school in your journey into post-secondary education!