Patriots Pandemic Outpaces Fenway Flu
For SHS Super Sailors the Struggle was Real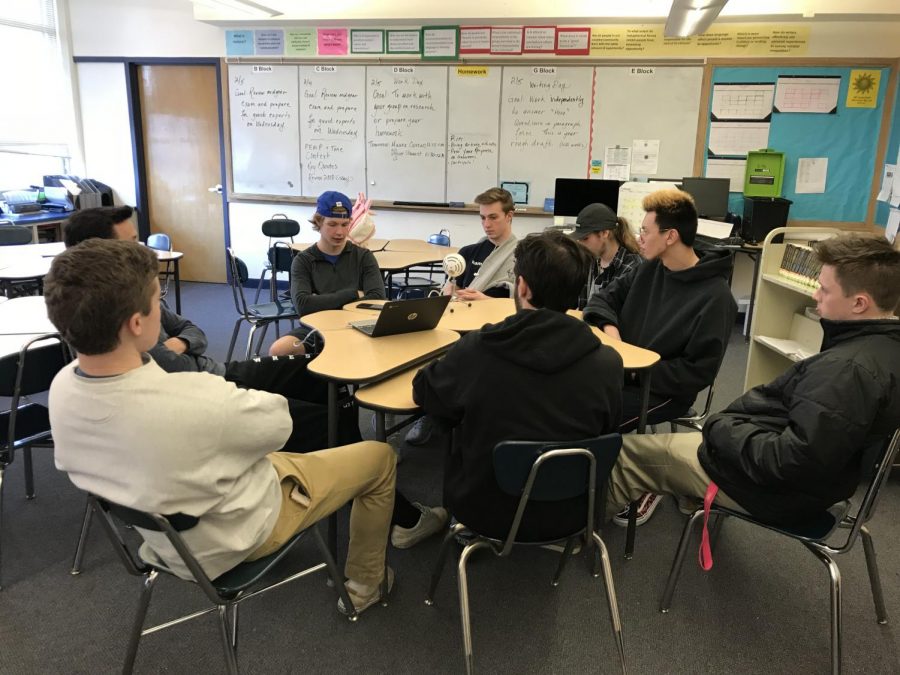 Journalism Students Who Didn't Attend the Parade, SHS Super Sailors
February 5, 2019
After celebrating Sunday's victorious Super Bowl game with family members, many SHS students quickly shifted their attention to the real celebration–missing school to attend the parade with their friends. On Monday morning, Boston pride filled the hallways as students came to school, train schedules in mind, calculating how to get to Boston.
On Tuesday morning, however, it was a much different story.  Excitement still rippled across Scituate, but one select group, SHS student-athletes, realized their dreams had been dashed: Due to MIAA rules and team commitments, many student-athletes were immediately discouraged from attending the parade.  A flurry of text messages and emails from coaches and administrators created frustration and confusion among these students. Group chats were blowing up with unsubstantiated rumors, and several Remind messages reflected an invective tone. As the fateful time of 8:10 a.m. quickly approached, numerous student-athletes faced the ultimate Title-Town dilemma: Attend the parade and risk sitting on the bench, or miss the parade and risk crying yourself to sleep.
For some students, Tuesday's Catch-22 may have induced a little bit of a "deja vu." Only a few months ago, the Red Sox celebrated their World Series title with a similar parade. On that day, the halls of Scituate High School emptied when over 300 students made their way into the city to show their team spirit.
The girls' basketball team undoubtedly experienced their own unique distress, as some teammates recalled the 2017 season snafu: Scituate decided not to attend the Patriots' parade because they were scheduled to compete later that day. When their opponents, North Quincy, attended the parade, the game was forfeited and the Scituate girls were cheated out of going to Boston.
Adding insult to injury for those who forfeited this year's parade, February 5th was unusually warm. Meteorologists predicted temperatures near 60 degrees, making the weather conditions for the Patriots' parade even better than the Red Sox' parade.
SHS attendance records suggest 489 high school students succumbed to the lure of Mother Nature and attended the Patriots' parade. Another 23 students were suspiciously dismissed early from school. Clearly, February's "Patriots Pandemic" was stronger than October's "Fenway Flu."
Unfortunately, for many Scituate High School student-athletes, there was no antidote for their misery: "I've cried about four times today," said senior Brennan Lynch. "Every fake fan gets to go," said senior Aidan Sullivan, adding, "I was doing work in my last class, but I couldn't get the parade out of my head."
As a form of talk therapy, Lynch and Sullivan's English class participated in a podcast facilitated by senior super fan Matt Luscombe. During the podcast, students released emotional steam by voicing their frustrations over their impossibly unfair predicament.
"I have heard many a student describe school as a 'prison,' but I never thought an actual school day would consist of walking in circles like prisoners in a prison yard," commented one participant, adding, "Not that I don't appreciate a nice walk outside, but I can guarantee that every student who went for a walk in health class today was thinking of a way to escape."
Noting the apocalyptic atmosphere at SHS, one podcaster said, "I was expecting a sparse classroom, but I didn't expect well over half of the student body to be missing." Many classes consisted of three, four, or five students, and no new information was taught.
Students reported their classes were a mix of sleeping, eating, and playing video games. "Frankly, I can't blame teachers for abandoning their curriculum–how can you teach a class when the class isn't there?" commented one student.  Sophomore Owen Callahan described the school day as "pointless because no one was here, so no one did work."
Though disappointment and despair seemed to define the day, one SHS student did share a positive perspective: "I would normally appreciate a full day of study, but having taken midyear exams only a few weeks ago, I have had next to no schoolwork. At least, thanks to school, I finally found the time to order all the things that have piled up in my Amazon shopping cart."