Why I Hate Season 17 of Grey's Anatomy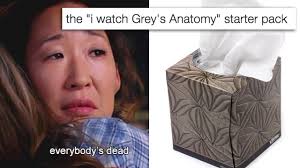 The dynasty that is Grey's Anatomy is crumbling, and fans can only place the fault in the hands of the producers themselves. Seventeen years is already too long for a show to have been dragged on–especially when audience numbers are decreasing, plotlines are becoming cardboard, characters have gone flat, and the show's zest is lifeless. Season 17 only further represents this downfall.
On the night of November 12, 2020, I sat down on my sofa at 9:00 PM, willing to give this show another try. I didn't begin watching the series until March of 2020 when quarantine began, and I quickly binged through ten seasons of suspense until I started losing all interest. It seemed that every time I found interest in a character, they either died or they were written off the show.
My disapproval started (SPOILER ALERTS AHEAD!) with sweet George O'Malley dying in the show, quickly followed by my favorite character Izzie Stevens leaving Seattle, the happy ending of lovers Lexie Grey and Mark Sloan being cut short after they were mutilated in a plane crash and Cristina leaving for Switzerland with Meredith all alone (really?). To continue, Dr. Shepherd (McDreamy) suffered a heartbreaking death, Alex Karev departed in season 16 for his ex-girlfriend, and now, the disappointing execution of the incorporation of COVID-19 into an already dwindling show.
After sitting through that two-hour premiere, I sure do have a lot to say, and it's not good. Every character in the show is wearing an N-95 mask, most are even wearing a face shield as well. Immediately, I can get a sense as to what the next 22 episodes are going to look like. Ugh. Our lives are filled every day with stressors, but these stressors have been magnified with the pandemic.
2020 has been an emotional rollercoaster, and not in a good way. People were looking for a way to escape from the chaos, escape from the noise, and escape from the unpredictability of this year; however, they were greeted by yet another reminder that this pandemic isn't over, and there is no shelter from the storm.
While it is just a show, and there is no denying that the pandemic is fully in our midst, Grey's Anatomy had the potential to pull off this storyline. Informing the public of the reality of healthcare workers' lives could have been integrated into the show while maintaining the root of what drew people in, a medical and love drama. Of the five episodes I have watched so far, the only drama I've observed is characters crying over the virus. And while this may be a valid reason to cry, it's not what I want to see from a multi-million dollar series.
Many fans think the show would have been better off without incorporating the coronavirus at all. The show's desperation to be relevant to the times is doing it more harm than good. Over the years, the viewer count has dipped from 8 million to 7 million to 6 million, and now to 4-5 million in Season 17. The most faithful of viewers, those who have been watching since season 1, are even deciding to turn off their TV and abandon the show.
Grey's Anatomy in its 17th season has offered no value of entertainment, little to no love drama between characters, a nonexistent plotline, and no focus on characters' lives. In its suspected to be last season, the series will be ending as a flop. Grey's Anatomy butchered what should have been a knock out of the park.