A Stay-At-Home Coronavirus Viewing List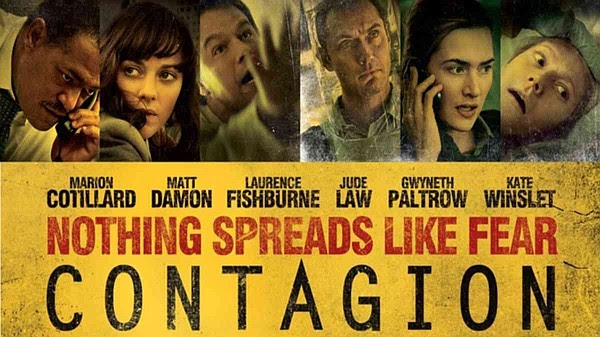 As the coronavirus continues to fundamentally alter the American way of life as we know it, our collective anxieties continue to rise. For me personally, as my last year of high school and college decision process change drastically for the worse and I become more and more concerned for my elderly and immunocompromised family and friends, I can at least attempt to find refuge in movies and TV shows that are now more accessible than ever. Many of the movies and TV shows on this list don't have direct parallels to the current global pandemic we have on our hands, but each of them offers some vestige of comfort in their own ways.
Contagion (2011) dir. Steven Soderbergh: With that said, this is the work with the most obvious and accurate comparisons to current events, albeit with a much more deadly virus, which may be anxiety-inducing at first, especially when they start bringing up buzzwords we're hearing constantly now, such as "social distancing" and setting up temporary hospitals like the ones in New York City right now. However, something about the competence of the government officials in this movie, along with the eventual return to normalcy and unflinching reality Soderbergh brings to this fictional pandemic is oddly soothing. In a reality where individuals and healthcare officials are expected to do the job that our president can't, it's a reassuring sight to see our government comply with the CDC and WHO to keep its citizens safe, even if it's just a movie.
Cats (2019) dir. Tom Hooper: The 180 in this list from Contagion to Cats truly shows the dire times we're living in. In all seriousness though, as we're officially on stay-at-home orders from Governor Baker, there's no better time to watch the movie event critics have called "a nightmare" (ELLE), "impossible to review" (The Ringer), and "oh God, my eyes" (The Boston Globe). Based on these excerpts alone from people paid to watch hundreds of movies a year, I see simply no reason NOT to watch it. If you need any more persuasion, look at Seth Rogen's Twitter thread of utter confusion over the plotless void that is Cats, download the movie and bask in the utter absurdity of it all.
The Lighthouse (2019) dir. Robert Eggers: For those who might feel like going more on the indie side of things, The Lighthouse is another recent release that details the descent of two 19th century lighthouse keepers into madness after being trapped together for the winter. Shot in all black and white and anchored by two truly insane performances by Willem Dafoe and Robert Pattinson, it's a depiction of what it's like to be in quarantine with your family, pushed to the most psychologically torturous extremes. Plus, it also boasts one of the most confounding yet memorable endings to any movie I've seen in recent memory (but the less you know about the actual happenings of the plot, the better).
Birds of Prey (2020) dir. Cathy Yan: Lastly, for an injection of irreverent fun into these gloomy times, Birds of Prey released early for digital download today. Easily the most glitter-soaked superhero movie, and also arguably the best female-led one to date, it's anchored by a reliably great Margot Robbie performance and features some uniquely carnivalesque action sequences. The fact that she's also leading an all-female team fighting bad guys without the faux "Girl Power!" message of Wonder Woman and Captain Marvel makes it that much more fun. Put it on for the action and glitter, stay for Margot Robbie and the great costuming, both for the titular Birds of Prey but also for the evil henchmen hunting them down.
Game of Thrones (2011-2019): This is honestly the TV show that's just working best for me, both because I tried to start it previously when I had too much on my plate (which is certainly not a problem now) and because there's SO much going on in it. Before watching Game of Thrones, I had never been a fan of its particular strain of medieval fantasy, but it's won me over due to the sheer number of subgenres its many plots encompass. There's a political drama, adventure, slight tinges of comedy depending on the character, and straight-up fantasy. The number of simultaneous plots – at some points there's eight and I'm only on the third season – and amount of episodes – 10 hour-long episodes per season, with 8 seasons – make the show so time-consuming I can't wrap my head around both its happenings and the dire reality unfolding on the news every day. It may be dramatic to say Game of Thrones has forced me to obsess less over the coronavirus, but it's true.
New Girl (2011-2018): Just as long as Game of Thrones, only without the required amount of mental energy, New Girl is the perfect sitcom comfort food for these times, delivered in easy to digest 30-minute blocks of time. Although Zooey Deschanel is a solid anchor as the quirky new roommate Jess, the show really comes into its own with its excellent ensemble cast, with standouts such as Jake Johnson as the slacker Nick and Max Greenfield as the narcissistic Schmidt. It's never annoying, but also is never witty either. New Girl hits the perfect sitcom note, where it's reliably funny every episode, for 7 seasons – and isn't that what we're all looking for?