Greta Gerwig: Uprise in Female Directors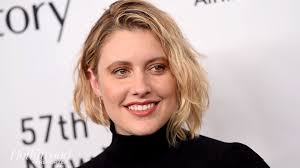 Initially known for her roles in independent movies such as Frances Ha (2013), and Mistress America (2015), Greta Gerwig has worked her way up in directing, acting, and writing. 
Some of her movies draw parallels to her own life. Gerwig grew up in Sacramento, California, and went to an all-girls Catholic high school similar to the character 'Lady Bird' in the 2017 movie she wrote and directed. Frances Ha also portrayed an aspiring dancer in New York City, who grew up in Sacramento, California. 
Interestingly enough, while in high school, Gerwig was a competitive fencer ranked as third place in California. In 2002, Gerwig attended Barnard College in New York City, where she focused on studying English and philosophy, while also writing and acting in plays. 
It wasn't until Gerwig's film, Lady Bird that she gained more recognition in the public eye. In an interview with NPR, Gerwig described her experience working on Lady Bird: "It's been an extraordinary journey with this movie, and I'm very touched in so many ways that it's been recognized like this."
As for her role as a female director in today's society, Gerwig is looking forward to the increase in progress. According to Variety, Stacy L. Smith, founder of USC's Annenberg Inclusion Initiative, provided some insight into the increase of women directors: "It looks like for 2019 like at least 12 movies–which is an all-time high–will be directed by women across the top 100 films… that number could go as high as 14."  Gerwig, after hearing this, expressed her excitement: "That's wonderful. Oh, that's wonderful!" 
Regarding future projects, Gerwig is going to be acting in Chekhov's Three Sisters, a New York Theater Workshop production, as well as writing the live-action Barbie movie, starring Margot Robbie, according to an interview with People Magazine. She also revealed that tap-dancing will be integrated into a new musical that she is writing. 
This past December, Gerwig released her interpretation of Little Women on Christmas Day. Her feminist angle integrated throughout this film provides insight into what we are looking toward as a generation, regarding change and female empowerment.